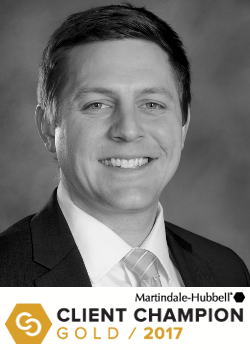 Attorney, Jack R. Hilgeman, Partner at Cowan & Hilgeman, was recently awarded the "Gold Champion" Client Award by Martindale-Hubbell.
Fewer than 1% of all attorneys are honored with such an award. Mr. Hilgeman has a perfect 5.0/5.0 client review rating and was recognized last year by Martindale-Hubbell's Client Distinction Award. Here are what some of Mr. Hilgeman's clients said:
"Jack is a very personable lawyer he gets things done and makes sure your happy with any outcome, I will use him over and over again if need be…choose Jack and you know you just made the right choice…Best Lawyer in Dayton…"
"Continue to be a bright, caring, and professional individual. During my case I never felt like you were there for the money, you were always there for me (Client) and wanted the best for me."
 "Jack is very efficient, trustworthy and supportive. Although my case was challenging at times, his honesty and fortitude saw us through my case to the end. I would recommend Jack for Personal Injury cases and can vouch that he is also a wonderful person."
"I would highly recommend Jack Hilgeman to anyone looking for a personal injury attorney. His professionalism, work ethic and genuine concern for the outcome of my claim exceeded any expectations."
"Jack goes above and beyond to help you get your case resolved. He was very patient and explained everything to me through the whole process. I would highly recommend." Martindale-Hubbell® Peer Review Ratings™, the gold standard in attorney ratings, have recognized lawyers for their strong legal ability and high ethical standards for more than a century. Attorneys looking to refer a client, as well as individuals researching lawyers for their own legal needs, use these ratings to identify, evaluate and select the most appropriate lawyer for their legal issue.
Martindale-Hubbell Client Review Ratings provide the perspective of the client: Who better to describe the services and counsel that lawyers or law firms offer than those who previously retained them?
Taken together, peer review ratings and client review ratings deliver a comprehensive view of a lawyer's legal abilities and service and benefit the entire legal community. Mr. Hilgeman focuses his practice on the areas of personal injury, medical malpractice, nursing home negligence, product liability and wrongful death. He has recovered millions in compensation on behalf of his clients throughout Ohio.