Were you involved in an Ohio
Motorcycle
Accident?
Our Dayton Personal Injury Attorneys want to help
Dayton Motorcycle Accident Lawyers
Dedicated to advocating for Ohio's injury victims

A serious motorcycle accident can change someone's life in an instant. We work tirelessly to put in place the right care and support for our clients to get them back their quality and life and to embrace the future.
To speak with one of our motorcycle accident injury experts call (937) 222-2030
Our personal injury team is expert at pursuing motorcycle accident claims. We are one of Dayton's leading personal injury law firms and specialise in handling complex cases involving long-term rehabilitation programs.
Many motorcyclists will have legal expenses covered by their insurance policy. In the event of a motorcycle accident, and often faced with devastating injuries, it is easy to see why many victims assume that the attorneys appointed by their insurers will provide competent legal advice.
These attorneys are often not specialists in serious motorcycle injury claims and provide inadequate advice, leading to missed opportunities to obtain early admissions of liability and interim payments, and frequently under-settle claims. We have extensive experience in taking over cases from insurance-appointed attorneys, ensuring that victims of motorcycle accidents receive the best possible legal advice. If you have already retained an attorney but are not happy with the advice you are receiving you can contact us to discuss your case.
Motorcycle accidents often leave behind devastating injuries that require life-long rehabilitation and care. Don't settle for less than you deserve. Trust your case to an attorney with a proven track record working on behalf of motorcycle accident victims.
Motorcycle Accident
$250,000.00
Client alleged he sustained a neck injury which required surgery. Defendant offered $0 prior to the filing of lawsuit alleging that Client's neck conditions were pre-existing which caused the need for surgery after the accident. Policy limits were obtained shortly before trial.
USPS / Amazon / UPS / Fedex Accidents
Uber / Lyft / Rideshare Accidents

We pride ourselves on client satisfaction and strive to fully explain:
All Compensation Available Under Ohio Law
Medical Bills – Who Pays and How to Get Them Paid
Lost Wage Repayment
Out-of-Pocket Cost Reimbursement
Collection of Medical Records and Bills
Value of Pain and Suffering
Expert Reports
Property Damage Repairs and Diminished Value Claims
Ohio had 140 motorcycle fatalities in 2014
In 2013, nearly 88,000 were injured in motorcycle accidents and more than 4,600 of those incidents were fatal.
The most recent statistics from the National Highway Traffic Safety Administration indicate that nearly 88,000 motorcyclists were injured and more than 4,600 of the motorcycle accidents were fatal in 2013. In fact, motorcycle fatalities occurred 26 times more often than passenger occupants in motor vehicles. Consumer Reports indicates motorcycle fatalities surpassed 5,000 in 2015 – close to an all time high. Often times it is the other drivers on the road, not the motorcyclists, that are responsible for these fatal accidents.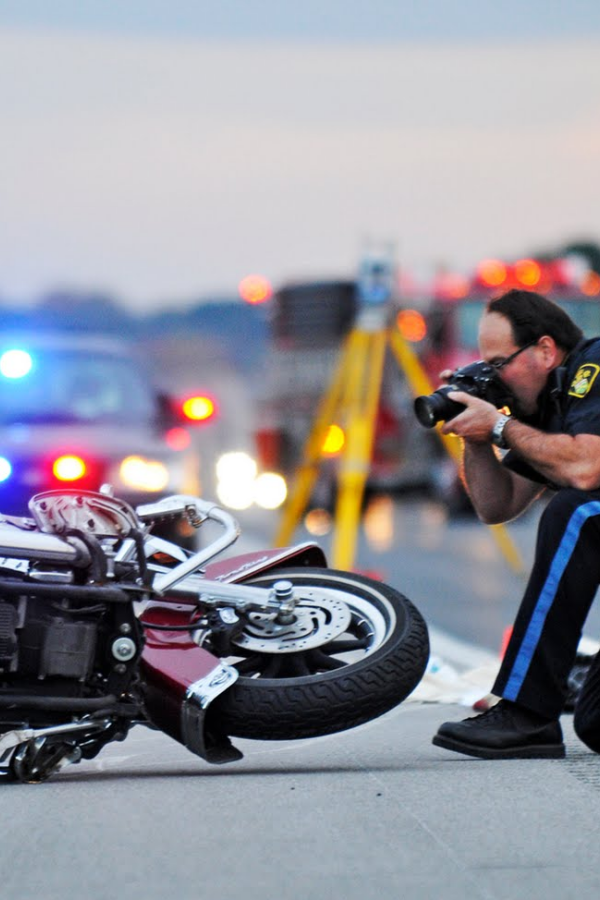 According to the Governors Highway Safety Association, Ohio had 140 motorcycle fatalities in 2014. The Ohio motorcycle accident attorney at Cowan & Hilgeman have experience handling motorcycle accident claims across Ohio and have the resources necessary to effectively prosecute your claim and recover maximum compensation.
Given the serious and fatal injuries that occur as a result of motorcycle accidents, it is important that you trust an Ohio motorcycle accident attorney that is committed to investigating your case, hiring the best experts and aggressively pursing your claims.
Cowan & Hilgeman has the experience and resources that are necessary to fully investigate your case and prosecute your claims. If you have questions regarding your claims or benefits, call us today to schedule a free motorcycle accident case consultation.
Motorcycle Accident Attorney Dayton OH
 Why wait? No Risk – No Fee – No Obligation.
See for yourself why so many clients have trusted the motorcycle accident attorneys at Cowan & Hilgeman to protect their rights. We are proud to offer free face-to-face motorcycle case evaluations.
Please contact the Dayton Personal Injury Lawyers at Cowan & Hilgeman to schedule your free initial office consultation today.
Although riding a motorcycle is a great way to get around town, it is also dangerous. In 2017, 5,172 motorcyclists lost their lives in fatal accidents across the country. An additional 89,000 motorcyclists suffered serious injuries. To avoid serious accidents, safety experts recommend a variety of motorcycle safety tips. While these tips will not...