Wrongful Death
Wrongful death is the legal term used for the untimely loss of life due to negligence caused by another. Wrongful death lawsuits may arise as a result of car accidents, slip and fall accidents, medical malpractice, nursing home negligence or product liability.
Click to Call
Specialties
The objective of a wrongful death claim is to obtain compensation for surviving spouse, children and beneficiaries for their loss.
Wrongful death claims can often be critical to the economic well-being of the surviving family members if they relied on the decedent for financial support. Under the Ohio Wrongful Death Statute, compensation may be awarded for the following: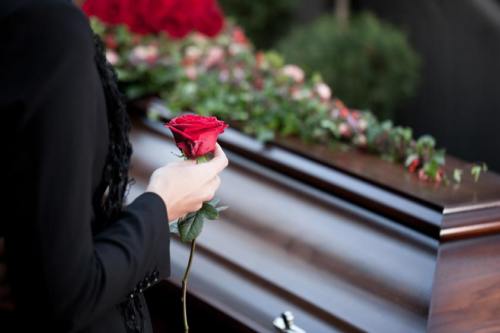 – Loss of support from the reasonably expected earning capacity of the decedent;
– Loss of services of the decedent;
– Loss of the society of the decedent, including loss of companionship, consortium, care, assistance, attention, protection, advice, guidance, counsel, instruction, training, and education, suffered by the surviving spouse, dependent children, parents, or next of kin of the decedent;
– Loss of prospective inheritance to the decedent's heirs at law at the time of the decedent's death; and
– The mental anguish incurred by the surviving spouse, dependent children, parents, or next of kin of the decedent. Ohio Revised Code §2125.02(D)(1) requires that all wrongful death lawsuits must be filed within two (2) years from the date of death caused by the negligence. If you do not bring a wrongful death lawsuit within two (2) years, then you will be forever barred from compensation for the loss of a loved one.
Wrongful Death Attorney Dayton OH
Wrongful death lawsuits can be complex and often require the use of experts with a specialty in a particular area.
The wrongful death lawyers at Cowan and Hilgeman routinely consult with the best and brightest experts in their respective fields, including surgeons, engineers, accident reconstructionists, economic experts and many other top experts. The Ohio wrongful death lawyers at Cowan and Hilgeman know that experts can be essential to win a wrongful death lawsuit so it is important to retain the best expert in their field.
Whereas many types of injury claims can fit into a certain type of claim, our Ohio wrongful death lawyers realize that wrongful death lawsuits can arise out of many scenarios. While motor vehicles, medicine and products continue to become safer with advancements in technology, death claims continue to rise across the country. The National Safety Council reported that the number of wrongful deaths in 2016 as a result of motor vehicle accidents exceeded 40,000. The National Highway Traffic Safety Administration reported that motor vehicle wrongful deaths in 2016 were up 8%.
John Hopkins University School of Medicine estimated that medical errors resulting in wrongful death are the third leading cause of death in the United States. Estimates for wrongful death caused by consumer products, both medical devices and non-medical devices, are much tougher to determine as the data is not easily calculated. Wrongful death claims are more common now than ever.
In addition to a wrongful death claim that may be brought by the next-of-kin for the loss of their loved one, a survival claim may also be brought to recover compensation for the injuries to the deceased.
A survival claim is different than a wrongful death lawsuit and allows an individual on behalf of the deceased's estate to following:
Medical bills and expenses associated with treatment provided to the deceased as a result of the negligence;
Lost income which would have been earned and derived by the decedent;
Conscious pain and suffering of the decedent which includes mental anguish, loss of enjoyment of life and death
The loss of a loved one is never easy, especially when it comes as a result of negligence. It is important that the surviving family members have both emotional and legal support to get through these toughest of times. Ohio wrongful death lawyers at Cowan and Hilgeman understand these emotions and have experience handling wrongful death lawsuits caused by motor vehicle accidents, medical malpractice, nursing home negligence and product liability.
Wrongful death lawyers at Cowan and Hilgeman offer free case evaluations and only get paid an attorney fee if we win your case. You do not pay an attorney fee if we do not win your case. If you have questions regarding a potential wrongful death lawsuit, call our wrongful death lawyers today to speak with an attorney and schedule a free case evaluation.
Wrongful Death: Proving Negligence
A Dayton, OH wrongful death attorney can attest to just how complex wrongful death cases can be. In such cases, proving negligence is crucial for the plaintiff to receive justice and compensation for their loss. Negligence occurs when someone fails to exercise reasonable care, resulting in harm or death to another person. In this listicle, we will explore four effective ways to prove negligence in a wrongful death case.
Establish Duty of Care:
In order to prove that negligence occurred, duty of care must be established. Duty of care refers to the legal obligation of an individual or entity to act reasonably and responsibly to prevent harm to others. In a wrongful death case, it must be shown that the defendant owed a duty of care to the deceased. For example, doctors have a duty of care to their patients, and employers have a duty of care to provide a safe working environment. By establishing this duty, you lay the foundation for proving negligence.
Breach of Duty:
When duty of care is established, the following step is to find out whether the defendant breached that duty. This requires proving that the defendant's actions (or lack thereof) fell below the standard of care expected in the given circumstances. It involves comparing the defendant's conduct to what a reasonable person or a professional in their position would have done. Expert witnesses, such as medical professionals or accident reconstruction specialists, can provide invaluable testimony to establish the breach of duty.
Causation:
Proving causation is a critical element in any negligence case, including wrongful death. You must demonstrate that the defendant's breach of duty directly caused or significantly contributed to the death of the victim. This can be challenging, as there may be multiple factors involved. Expert testimony and thorough investigation are essential in establishing a causal link between the defendant's actions and the fatal outcome. Some evidence that can play a key role in strengthening your claim include medical records and accident reports.
Damages:
To succeed in a wrongful death case, you must prove the existence of damages resulting from the defendant's negligence. Damages can include financial losses, such as medical bills, funeral expenses, and loss of financial support. It also encompasses non-economic damages, such as pain and suffering, loss of companionship, and emotional distress experienced by the surviving family members. To achieve a fair settlement, collecting evidence of damages is necessary. Financial records, expert testimony, and personal testimonies can help establish the extent of the damages suffered.
Proving negligence in a wrongful death case is a complex and challenging task. The process of proving negligence can be a daunting and complex task in a wrongful death case. However, by following these four effective ways – establishing duty of care, demonstrating breach of duty, proving causation, and presenting damages – you can build a strong case. It is crucial to gather compelling evidence, consult with expert witnesses, and work closely with an experienced attorney specializing in wrongful death cases. Contact a respected and qualified Dayton wrongful death lawyer Cowan & Hilgeman so that they can pursue the negligent party responsible for your loved one's death.
Types of Wrongful Death Cases we Can Help With

Car Accidents
When a person operates a motor vehicle, they have a responsibility to operate the vehicle in a safe way. When a person chooses to ignore this obligation, they deserve to be held liable – especially if that person was under the influence of drugs and/or alcohol. 

Motorcycle Accidents
Motorcycle fatalities occurred 26 times more often than passenger occupants in motor vehicles. Often times it is the other drivers on the road, not the motorcyclists, that are responsible for these fatal accidents.

Medical Malpractice
When a licensed healthcare professional acts negligently, causing injury or death to a patient, that patient or their loved ones may be entitled to collect damages. When a medical provider fails to follow procedure or performs an operation they should not have, this could be a case of medical malpractice.
Nursing Home Negligence
Nursing home negligence often results in catastrophic injury or even death. Most elderly people are already medically fragile before going to live in a nursing home. When these frail people are poorly treated, their condition can deteriorate rapidly. 

Product Liability
The Product Liability Lawyers at Cowan and Hilgeman have experience handling pharmaceutical, medical device and general product liability claims against international and national corporations. These include claims against producers of dangerous drugs, defective medical devices and product designers, distributors and retailers.
Slip and Fall
Slips and falls may seem like they are not a big deal, but they can be deadly for the old and infirm. Broken bones can take years to heal in the medically fragile. Seemingly insignificant head collisions can cause fatal strokes. If your loved one slipped or fell due to someone else's negligence, which they later died from, we can help. 
Meet attorney
Jack R. Hilgeman
Attorney, Jack R. Hilgeman, represents those injured due to the negligence of others.  Mr. Hilgeman has recovered millions in compensation on behalf of his clients and been recognized by national publications as a leader in Ohio personal injury law.  He consistently receives awards for outstanding client satisfaction. 
Mr. Hilgeman's practice is limited to helping those harmed due to personal injury, medical malpractice, nursing home abuse and neglect, product liability and wrongful death.  Mr. Hilgeman takes all cases on a contingency fee, meaning that the client must pay an attorney fee only if a judgment or settlement is obtained.  Clients only pay a fee if compensation is recovered in their case.