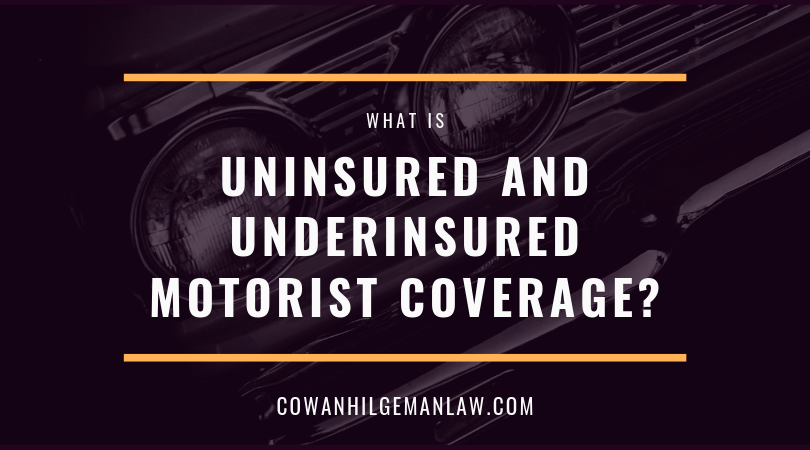 Unfortunately, despite Ohio law requiring that motor vehicle operators carry auto insurance or a bond, it is estimated that 12.4% of Ohio drivers do not have auto insurance.
If you are involved in a car accident with an uninsured or underinsured driver, it is unlikely that many of your medical bills, lost wages and pain and suffering would be compensated by them.
Given that more than 1 in 10 of all drivers are uninsured, it is important that you take steps to protect yourself in the event you sustain injuries as a result of another's negligence.
Uninsured/Underinsured motorist bodily injury coverage will pay for your medical expenses, prescription costs, out-of-pocket expenses, lost wages, pain and suffering, and permanent impairment and disfigurement that exceed the limits of the uninsured/underinsured driver's policy in the accident. If interested, read 'What Makes a Good Personal Injury Claim'.
As the Ohio State Bar Association stated, underinsured motorists coverage applies if your underinsured limits are greater than the liability limits of the underinsured driver. This point at which underinsured motorist coverage kicks in is called a "limits trigger." Your available underinsured motorist coverage is based on the difference between your underinsured motorist coverage and the underinsured driver's liability limits. For example, if the underinsured driver has $25,000 in liability limits, and you have $50,000 in underinsured motorist limits, you would be able to collect up to $25,000 ($50,000 – $25,000 = $25,000) from your underinsured motorist coverage.
However, uninsured/underinsured motorist coverage is not required under Ohio law. Therefore, it is crucial that all motor vehicle owners contact their insurance agents to confirm that they have adequate uninsured/underinsured motorist coverage. It is generally a very affordable coverage to add on your policy and the benefits can be the difference between financial protection and ruin.
The personal injury lawyers at Cowan & Hilgeman have recovered millions in compensation for our clients. Our lawyers create plans of attack for each case specific to the client's needs and expectations. The lawyers at Cowan & Hilgeman handle claims involving personal injury, medical malpractice, nursing home negligence, product liability and wrongful death. We routinely recover compensation on cases that other law firms reject.
Cowan & Hilgeman offers free personal injury case evaluations and only get paid an attorney fee if we win your personal injury case.
Call 937-222-2030 to get your free case evaluation.