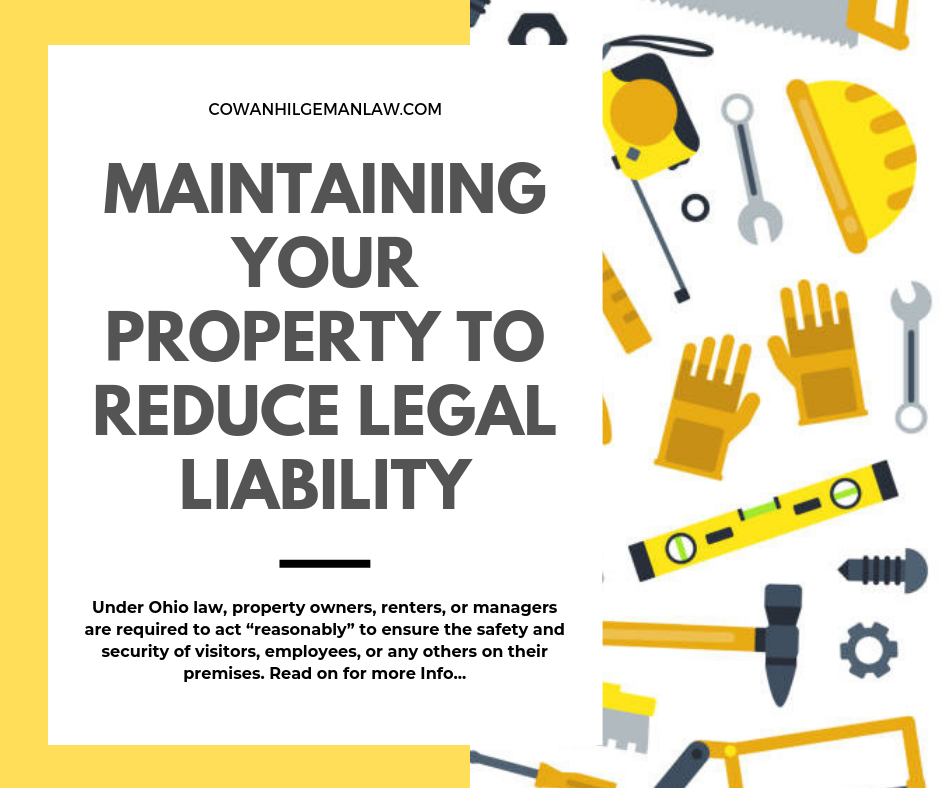 Most dangerous property conditions are the result of inadequate maintenance, such as broken glass, uneven sidewalks, cracked floor tiles, fallen merchandise or loose handrails. Dangerous conditions can also arise from negligent security, like broken fencing, poor lighting or unrestrained animals.
Slip and fall cases are among the most common forms of Premises Liability lawsuits. These can be the result of broken or unstable flooring, uneven sidewalks, icy or wet conditions, poorly maintained or dirty staircases, and broken handrails.
Under Ohio law, property owners, renters, or managers are required to act "reasonably" to ensure the safety and security of visitors, employees, or any others on their premises – even, to a certain extent, trespassers. Acting reasonably means:
Addressing dangerous conditions in a short time frame
AND
Taking measures to notify visitors of potentially hazardous conditions.
While it is impossible to prevent all accidents from happening on your property, taking the following steps can reduce your culpability, should the unthinkable happen:
Inspect your Property Regularly
Create a consistent inspection schedule and document all hazards found, along with the steps taken to remedy each situation. A well-documented maintenance schedule can help prove you to be a conscientious and careful property owner, who takes their legal obligation to provide a safe environment seriously.
Perform Repairs Quickly
Hazards that are present for a long time without being addressed are another example of negligence from failure to maintain the property. Concrete stairs that are chipped or uneven, torn carpets, and lumps or other breaks in the floor are a few examples of disrepair that can cause injuries.
Ensure Proper Lighting
Burned out light bulbs and poor lighting can easily prove an owner's negligence, if he or she knew about the problem but did nothing to correct it in a timely manner. Test light bulbs regularly and always keep replacement bulbs on-hand.
Maintain a Clear Floor Plan, Free of Obstructions and Hazards
It is a property owner's responsibility to keep floor plans and walkways clear of potential hazards. This can include boxes, files, trash cans, litter, construction debris and furniture. Employees should be trained and encouraged to clear hazards before they become problems.
Use Caution Signs
Any area of potential hazard must be marked with caution signs. These can include wet or icy floors or warning of uneven ground. Caution Signs should be considered temporary and should not be used in lieu of proper maintenance and repairs, however, as these may actually PROVE liability. If the property owner knew that a floor or structure was unstable, for example, and placed a warning sign on it but failed to actually remedy the situation, then the owner may be found negligent.
Cordon Off Dangerous Areas
Areas that present immediate danger such as constructions zones, unstable staircases or places where heavy equipment is in use should be cordoned off. Caution signs are not considered sufficient to prevent liability; a physical barrier, in conjunction with visible caution signs must prevent access.
If you or a loved one has been injured due to the poor maintenance or upkeep of someone's property, you may be entitled to compensation for your injuries, pain, suffering, medical bills and loss of income. There are strict deadlines to file a premises liability claim in Ohio, so do not delay in contacting a lawyer that has experience investigating bedsore medical malpractice claims.
The premises liability lawyers at Cowan & Hilgeman have recovered millions in compensation for clients. Our injury lawyers create plans of attack for each case tailored specific to the client's needs and expectations.
The lawyers at Cowan & Hilgeman handle claims involving personal injury, medical malpractice, nursing home negligence, product liability and wrongful death. We routinely recover compensation on cases that other law firms reject.
Cowan & Hilgeman offers free personal injury case evaluations and only get paid an attorney fee if we win your personal injury case.
Call 937-222-2030 to get your free case evaluation.