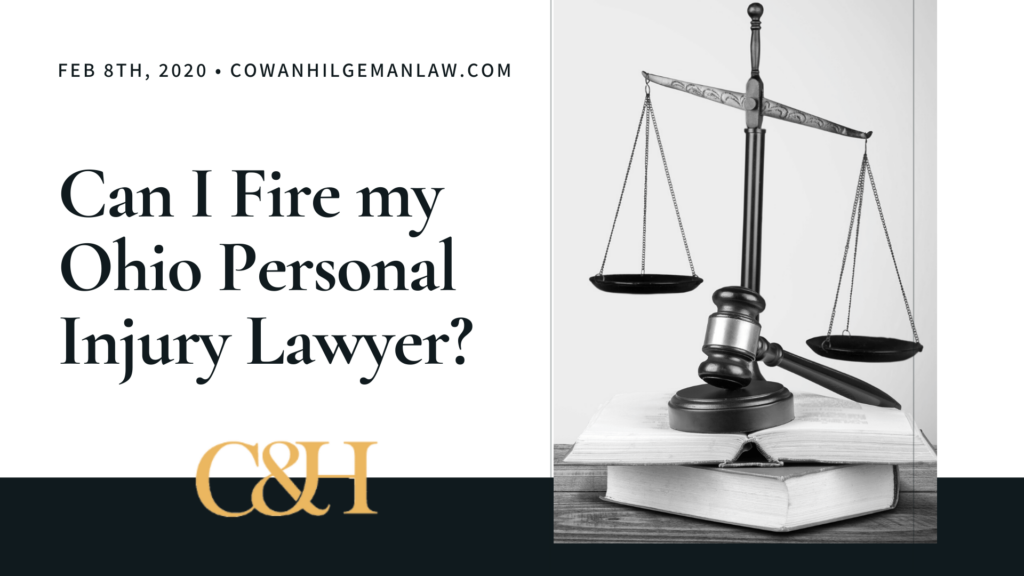 At Cowan & Hilgeman, we routinely hear from people who have been treated poorly by other firms. We treat every potential client as someone who deserves care, attention, compassion and frequent communication. If your Ohio personal injury lawyer does not make you feel as though your case is important to them, or if they aren't devoting enough time and resources to helping you – or worse, they are acting unethically – you are perfectly within your rights to fire them.
Before acting rashly, however, you should consider the following:
1 – Where your case stands with the court
If your case is currently pending with the Court, you may have to receive permission from the Court before you can fire your Ohio personal injury lawyer. If your case is NOT currently pending with the Court, you may terminate your relationship with your attorney at any time.
2 – Firing your attorney can be costly
You must still pay your attorney for the work they did up to the point of termination, even if you feel it was substandard. You will also have to retain another attorney, which can be expensive. At Cowan & Hilgeman, you will not pay a penny unless we win your case, so this is less of a concern if you work with us.
3 – Have you tried to talk to your attorney?
Sometimes, attorneys take on a few too many clients, which can leave some feeling less than well-cared for. Talk to your attorney about your concerns. If they care at all about their clients, they will apologize and try to fix their mistakes. If they brush off your concerns or try to persuade you that this is just how these things go, consider speaking to an attorney who will take you seriously. There is an ebb and flow to all cases – times when it feels as though nothing is happening. It is important to speak with your lawyer to determine whether your working relationship has truly deteriorated to the point where it cannot be saved.
4 – Terminate your relationship properly.
If you do decide to fire your lawyer, you should send him or her a certified letter stating plainly that you are terminating your relationship and that the attorney should cease working on your case. Request your files back or ask that they are sent to your new lawyer; you are entitled to the work product you and your lawyer have created up to the point your relationship is terminated. Be professional and courteous. You do not need to explain your reasons for firing your Ohio personal injury lawyer. Ask for an itemized bill listing all pending fees and expenses. If yours is a contingency case, your new attorney will pay your old attorney from any money that you ultimately recover.
The process of changing attorneys can be stressful, but ultimately important if you feel that your needs are not being adequately met. Before taking any action, you should always speak with an impartial attorney who will advise you on the best course of action. Call Cowan & Hilgeman at (937) 222-2030 for a free consultation.