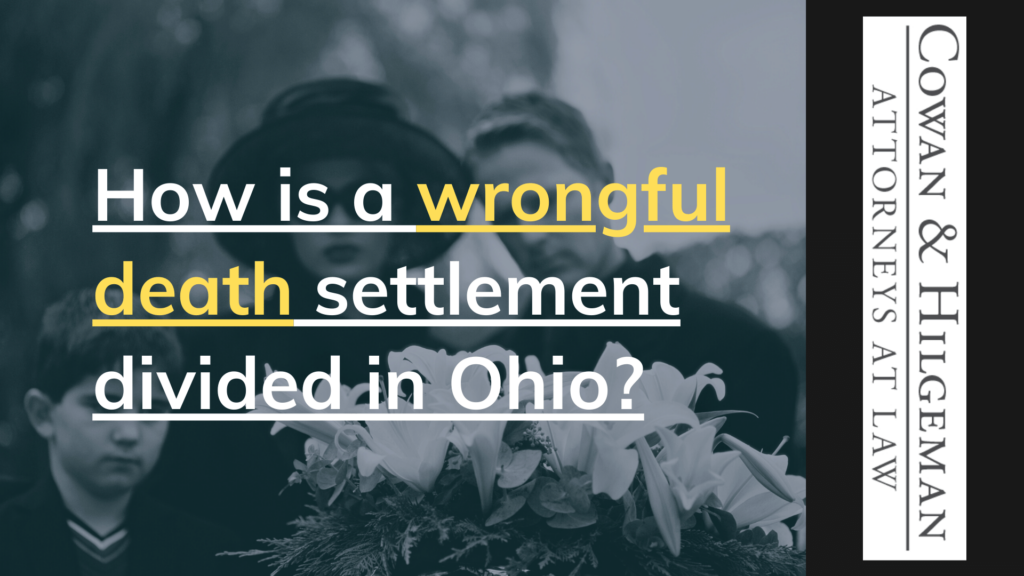 Wrongful death is such a painful subject. It seems like such an oxymoron. After all, who doesn't feel as if the death of a loved one is wrong in some way, shape, or form? All of the people tied to that special person feel a loss at their passing, but in the eyes of the law the emotional toll is just one part of the overall picture when a settlement is involved.
Grief can make these legal waters difficult to navigate, and with that in mind, this article is intended to help you understand the basic procedures surrounding a wrongful death, and what you might expect in the division of a wrongful death settlement.
The first step is understanding what constitutes a wrongful death. 
According to the legal encyclopedia nolo.com, wrongful death is treated as if it was a "personal injury claim in which the injured person is no longer available to file his or her own case in court.¨ 
Ohio state code section 2125.01 defines a wrongful death as ¨When the death of a person is caused by wrongful act, neglect, or default which would have entitled the party injured to maintain an action and recover damages if death had not ensued.¨ 
Most cases of wrongful death are filed because of an accident that resulted in a death (like a car accident or in the form of medical malpractice) but it can also range out to include acts of violence or extreme negligence. If you feel that your loved one's death falls into these categories outlining wrongful death and you wish to file a claim, or are just unsure of what you can do next, you should contact a personal injury attorney as soon as possible to review your case.
In the state of Ohio most claims typically face a statute of limitations of two years.
If you wait until two years after the death, even if it does meet the criteria above, the case will almost certainly be dismissed by the courts, with very few exceptions. Even if you are uncertain about the eligibility of your suit, it is best to consult an expert to guide you through this complicated process.
Once you have followed through with the claim and a judgement has been awarded or a settlement has been reached, the next step is to divide that amount among the survivors of the deceased.
Ohio law tries to divide this as fairly as possible, determined by the degree of ¨damages suffered¨ by the beneficiaries. In most cases this is considered chiefly the domain of the spouse of the deceased, any children they had, and their parents.
If someone outside of this group feels they are entitled to compensation, they can make a claim, but they will have to do much more to prove what they have suffered. Regardless of who files, the court will divide the settlement based on inheritance laws which focus on the degree of relationship to the deceased, who was most dependent financially on the deceased, or who had a greater loss from the death.
For example, If a husband dies, his parents have suffered the loss of his company and any care he provided to them even in the form of house and yard work – and this is covered under the state law. However, his wife and any children they may have conceived has lost not only this, but has lost a vital part of the home's support system. Emotionally and financially, this is considered a greater loss than the loss felt by his parents. Ergo, the wife and children would receive a larger portion of the judgment than his surviving parents.
Usually siblings of the deceased are not included in this party, but can file a claim as stated above. In some cases, the surviving family comes to an agreement on how the settlement should be divided – and this can be a huge benefit –  and the courts will agree to honor this arrangement. However, if an agreement cannot be reached, the judge will do as they see fit given the circumstances of the case.
If some of the recipients are minors or under the age of twenty-five it is not uncommon for the courts to place the benefit into a trust to either be left untouched until the minor comes of age, or granted use by a designated trustee for particular circumstances (like college tuition, or routine and emergency medical expenses). This is also a preference the family can request of the courts. 
Dealing with a wrongful death can be one of the most difficult and heart wrenching experiences you may face.  You have already lost someone near and dear to you; however, that does not mean you are without support. You don't have to face this confusing time of grief alone, so call an experienced, compassionate wrongful death attorney for help today. They will help to guide you through this trying time and receive the fair compensation you deserve.