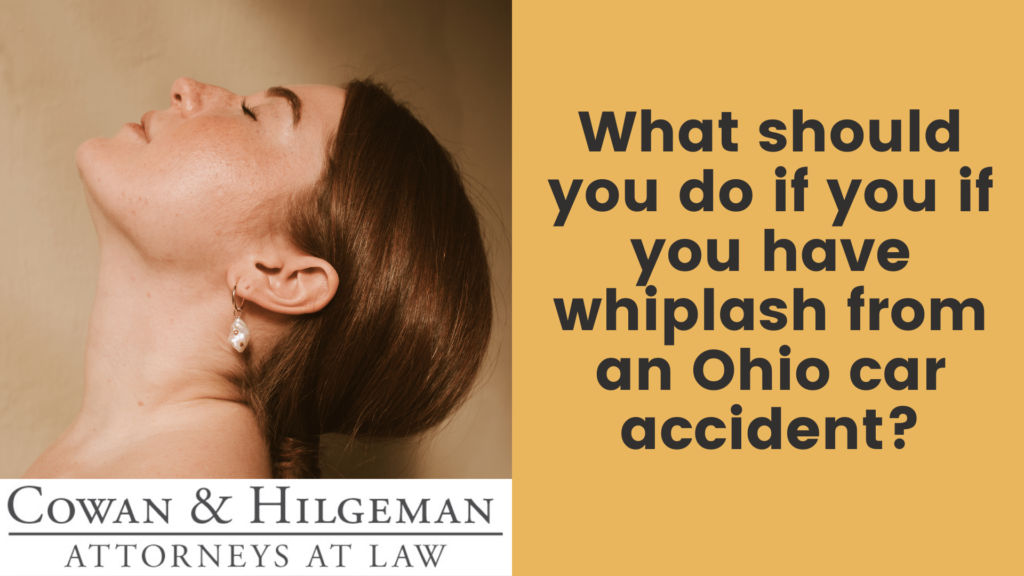 Being involved in a car accident can be a trying time in one's life. Experiencing an injury from such an event changes your life. No matter the perceived extent of your injury, you should not ignore them. One of the most controversial and common injuries in rear-end collisions is Whiplash. So What is the big deal about Whiplash? What do you do if you have Whiplash from an Ohio car accident?
What is Whiplash?
Whiplash is a non-medical term used to cover the symptoms of neck pain. It results from sudden trauma of forceful back-and-forth motion of the neck, like the cracking of a whip. It happens most commonly when involved in a rear-end collision – even at speeds as low as 5 mph. Over 2 million American suffer from this type of injury every year. Whiplash usually has a recovery period of at least a few weeks. You should not treat this injury lightly! Even though they are rare, long-term complications do occur. Even minor pain can indicate the very real threat of a fracture and should be checked at the hospital or at your family doctor's office.
If you have been injured in a car accident – get help immediately. Call 911!
Neck pain and stiffness
Worsening of pain with neck movement
Loss of range of motion in the neck
Headaches, most often starting at the base of the skull
Tenderness or pain in the shoulder, upper back or arms
Tingling or numbness in the arms
Fatigue
Dizziness
Blurred vision
Ringing in the ears (tinnitus)
Sleep disturbances
Irritability
Difficulty concentrating
Memory problems
Depression
What should you do if you have whiplash?
Just like any other injury in a car accident, there are steps you should take to protect yourself.
To learn more about what to do if you are in an Ohio car accident, click here.
Whiplash is linked to rear-end collisions, meaning someone has usually hit you with their car – and you may not be at fault. If you or a loved one has suffered from Whiplash and do not know what to do, we are here for you. Call our offices to schedule and appointment and allow us to help you navigate the confusing aftermath of an Ohio car crash. You don't have to suffer alone.