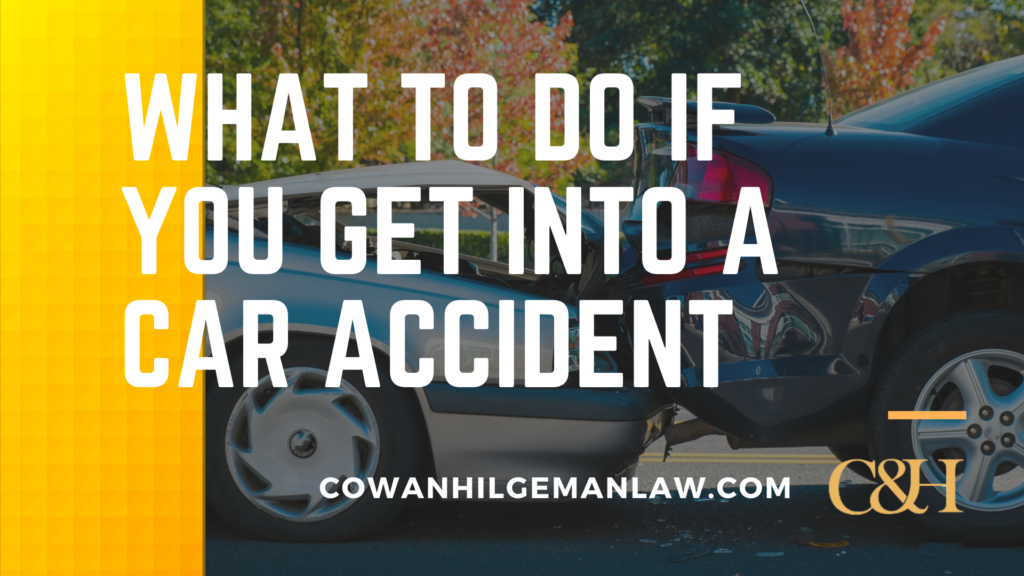 By car insurance industry estimates, you will file a claim for a collision about once every 17.9 years. If you got your license at age 16, the odds are quite good that you'll experience some kind of crash by the time you're 34, at the latest. Over the course of a typical long, driving lifetime, you should have a total of three to four accidents.
Chances are, these crashes won't be deadly. There are about 10 million accidents of all kinds each year, from parking lot scrapes to multi-car pileups, according to the National Safety Council. While the odds of dying from a motor vehicle crash are 1 in 103, the chances of sustaining an injury are far more likely. More than 2 million people are injured in car crashes every year.
At Cowan & Hilgeman Law, your safety is our top priority. We have compiled a list of steps you should take if you are one of the more than 2 Million Americans who will be injured in a car accident this year:
1 – Check yourself and your Passengers for Injury
If you or one of your passengers are injured, call 911 or ask a bystander to call for you.
2 – Get to Safety
If you are able to, pull your car over to the side of the road – but don't risk further injury to yourself or your passengers to do so. If you cannot move your car, leave it where it is and move yourself to the side of the road.
3 – Call 911
Even if you or the other driver thinks the accident is a minor fender bender that does not require police involvement, you should call the police. The responding officers will complete an accident report that may prove important when negotiating your claim with insurance companies. They will document the scene and record any potential witnesses.
4 – Wait for Help
Turn off your engine, turn on your hazard lights and set up a warning triangle or road flares, if you have them.
5 – Exchange Information
Make sure you get the other drivers' full name, address and telephone number, along with their insurance company contact information and policy number. It is also important to write down the color, make and model of the other car, as well as the license plate number.
You should avoid discussing the accident with the other driver, as even the smallest apology or nervous babble about how you didn't see them can be used to find you at fault, regardless who was actually to blame for the accident.
6 – Document the Accident
Take as many pictures as possible, without putting yourself in danger from other traffic. Make sure to record the damage to both cars from several different angles, in addition to the cars' general location in the road, surrounding traffic signals, signs, intersections, etc.
Write down the names and badge numbers of any responding officers, and the names and contact information of witnesses and passengers from both vehicles.
7 – Notify your Insurer
To begin the claims process, you need to notify your insurer as soon as possible. They will ask for a copy of the police report, which you may have to physically obtain from the police department. The insurance adjuster will contact you within a few days to take a sworn statement of facts.
8 – If Anyone Was Injured, Call a Personal Injury Attorney
Insurance companies are notorious for their dodgy tactics, and will often talk claimants into taking a settlement worth a fraction of what a personal injury Attorney can win for you.
The experienced car accident attorneys at Cowan & Hilgeman Law will fight tooth and nail to get you just and fair compensation for your injuries and loss of income.
Call (937) 222-2030 to schedule your FREE, no obligation consultation.