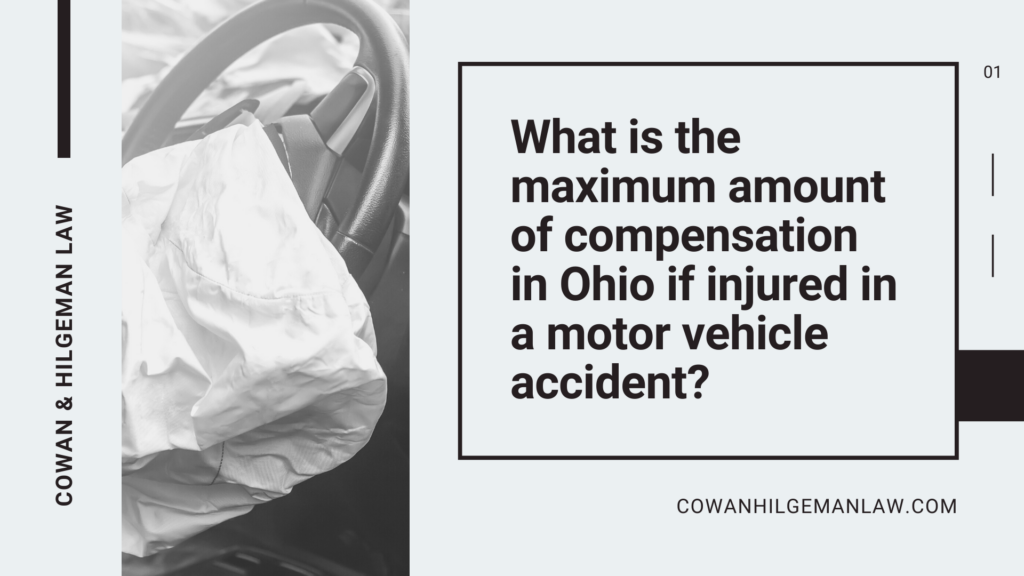 The maximum amount of compensation available after a motor vehicle accident varies considerably in Ohio, depending on the nature of the claim.
First, the court will calculate the Economic Damages caused by the accident. That will usually include medical bills, damage to property and vehicles, lost wages and rehabilitation costs. There is no set limit to the maximum amount of compensation awarded to the injured parties for Economic Damages.
Non-economic damages, on the other hand, are capped by Ohio law. Non-economic damages are defined as "pain and suffering, loss of society, consortium, companionship, care, assistance, attention, protection, advice, guidance, counsel, instruction, training, or education, disfigurement, mental anguish, and any other intangible loss."
Unlike medical bills or vehicle repair bills which have a fixed number that must be repaid, non-economic damages can be hard to monetarily value. So, Ohio statutes cap non-economic damages to $250,000 or three times your economic damages, which is subject to a maximum of $350,000 per person and $500,000 per accident.
This cap is removed, however, in Ohio Revised Code §2315.18(B)(3), for catastrophic cases where the injured party suffers from permanent and substantial physical deformity, loss of use of a limb, loss of a bodily organ system or permanent physical functional injury that permanently prevents the injured person from being able to independently care for themselves and perform life-sustaining activities. There is no limit to how much can be awarded in such cases.
No matter what kind of car accident you were in, or how badly you were injured as a result of someone else's negligence, it is vital that you get an experienced and aggressive car accident attorneys, Cowan & Hilgeman on your side. We will work tirelessly to get you the maximum amount of compensation available for your specific economic and non-economic injuries. Call (937) 222-2030 today to schedule your FREE consultation.