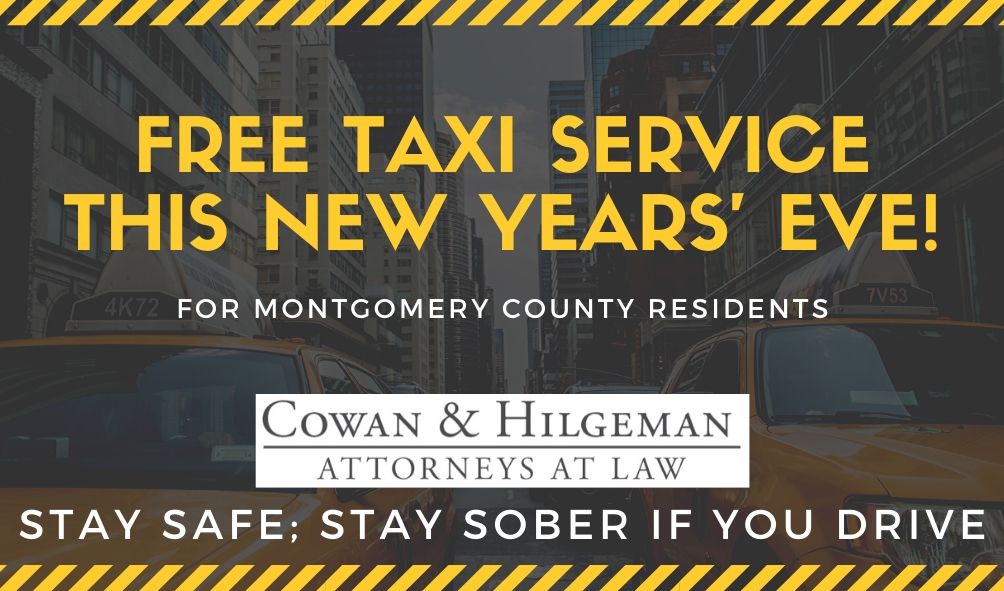 Starting at noon on December 31st and continuing to 6am on January 2nd, ArriveSafe will be offering FREE cab rides to all residents of Montgomery County, Ohio.
There is absolutely no excuse to drive while under the influence!
The U.S. National Institute on Alcohol Abuse and Alcoholism (NIAAA) reports that 40% of traffic-related deaths during Christmas and New Year's involve drunk drivers — a 12% increase over the rest of the month of December. According to the NHTSA, 2,597 people lost their lives due to motor vehicle traffic crashes during December 2010. The NHTSA also found that an average of 36 fatalities occurred each day in the U.S. 2001 and 2005 as a result of crashes involving an alcohol impaired driver. That number increased to 45 per day during the 3-day Christmas period and jumped to 54 per day over New Year's holiday period.
Call 937-449-9999 to get a free cab ride for up to a $50 fare.
Cowan & Hilgeman is not affiliated with ArriveSafe, but we feel strongly about protecting the lives and health of our neighbors. Free cab rides remove the economic barrier to safety. Stay safe this holiday season; Stay sober if you choose to drive.
If you are unfortunate enough to get into an accident with an impaired person, call us as soon as you are in a safe location – (937) 222-2030. There is no fee and no obligation.