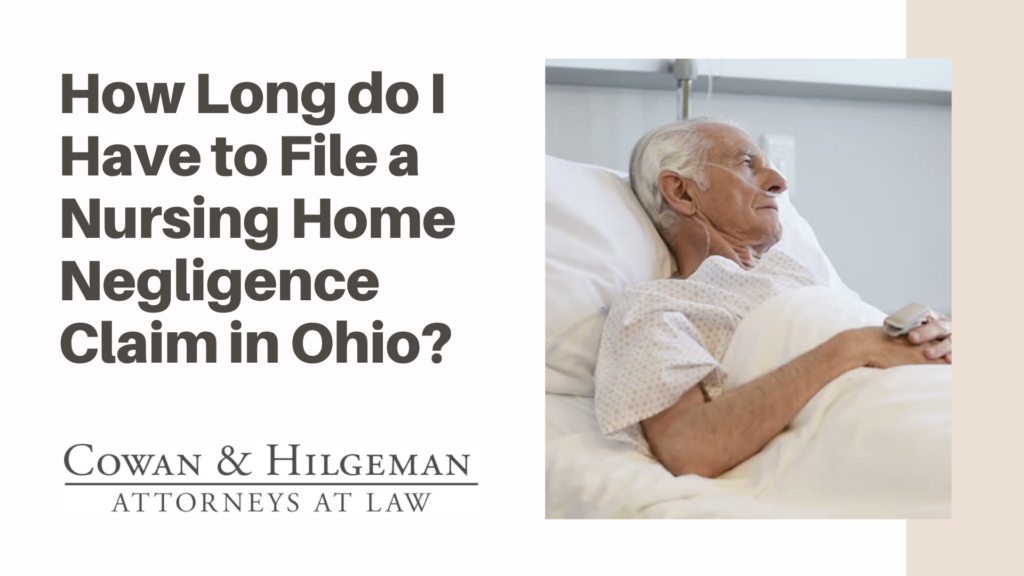 From the moment you or someone you love is injured in a nursing home, the clock starts running on how long you have to file a claim. In Ohio, the Statute of Limitations for a nursing home negligence or injury claim is generally 1 year. If you fail to file suit within that time frame, the defendant (the person you're trying to sue) will almost certainly file a "motion to dismiss", and the Court will reject your case on statutory grounds.
Even if you or your loved one was horribly injured due to nursing home negligence or neglect, and they were clearly in the wrong; after a year, they can no longer be held responsible through a personal injury claim.
With a few exceptions:
In cases where the victim was 'of unsound mind', the time limit in which their next of kin can file a personal injury claim is lifted. Common diagnoses such as Alzheimer's and dementia could extend the statute of limitations beyond one year. An experienced personal injury attorney will be able to tell you whether the statute of limitations applies in your case.

If the defendant "departs from the state" or absconds, or conceals" him or herself within the state of Ohio, the time limit in which to file a personal injury claim does not start again until the person can be located. In other words, if the defendant skips town for a couple of years to avoid taking responsibility for their actions, you have 1 year from the date of their return in which to file a lawsuit.

If your Ohio nursing home negligence or injury claim stems from injuries caused by a defective product, a special filing timeline may apply to your case, especially if consumer fraud or a product warranty is involved.
Putting a family member into a nursing home can be extremely difficult. You are trusting strangers with the care, health and happiness of your loved one, which makes it especially upsetting if they are injured or even killed by negligence or neglect.
After a nursing home negligence or neglect injury, it is extremely important to get an experienced, aggressive attorney fighting in your corner. Due to the advanced age and frailty of most nursing home residents, care facilities will often try to explain away or pass off their responsibility as just a natural consequence of being old and frail. "These things just happen sometimes", they will say. If you suspect negligence or abuse may have contributed to the injury or death of your loved on while in the care of a nursing home, call the experienced nursing home negligence attorneys at Cowan & Hilgeman.
At Cowan & Hilgeman, we have successfully handled countless nursing home negligence cases, including cases that other law firms have rejected. To schedule your FREE consultation with our Dayton Personal Injury Attorney, call (937) 222-2030.