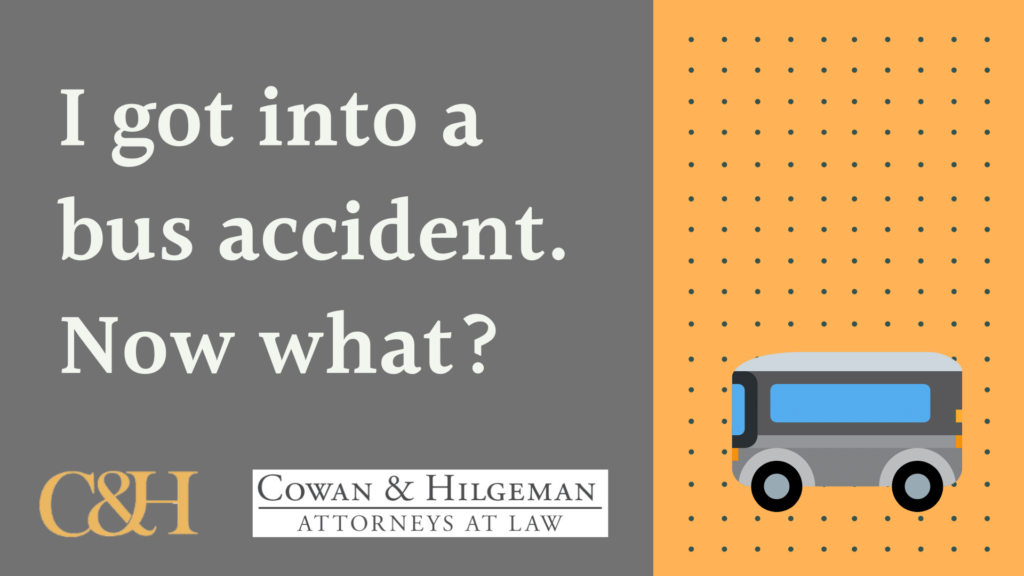 Since the local government owns RTA busses in Dayton, Ohio, special rules apply when they get into an accident. Governments in the United States have special protections against lawsuits called Sovereign Immunity. You can still file an injury claim or bus accident lawsuit against a government-owned bus line, if specific rules are followed. It helps to have an experienced bus accident attorney on your side.
Injury claims against the government are made under the rules of the Tort Claims Act for federal agencies. Many states and municipalities have adopted their own version of the Tort Claims Act to handle injury claims by private citizens.
Filing an injury claim under the Tort Claims Act is different from filing one against a private person or company. Claims against government agencies have special forms to complete and firm deadlines. If your forms are late or incorrect, you may lose your right to compensation.
You will have to file a "notice of claim."
Use the exact claim form required by the agency responsible for the bus accident. Most claim forms must include:
Your name and address
A description of when, where and how the bus accident happened
A description of your damages, such as your medical costs, lost wages, broken glasses, etc.
A statement of your intent to seek compensation for injuries and property damage caused by the agency's employee, for example, the bus driver.
Be sure to submit the notice on time, and to the right place. Keep a copy for your records.
Keep an Eye on the Statute of Limitations
In Ohio, you have two years from the date of the accident in which to file a claim. The clock starts running immediately, no matter how badly you were injured. If you miss the two year window, your claim will be thrown out. For more information on the Statute of Limitations in Ohio, please go to this article.
Bus Accidents and Common Carrier Laws
Any individual or business licensed to transport passengers for a fee is known as a common carrier. State and federal laws closely regulate most common carriers. The law holds carriers to a very high standard for the safety of their passengers, called a duty of care. Common Carriers must do everything reasonably within their power to avoid injuries to their passengers.
Common carriers' duties of care include:
Making entryways and exits safe for passengers (good lighting, no obstructions, etc.)
Providing security where necessary to ensure the health and safety of passengers
Hiring qualified bus drivers
Maintaining bus engines, motors, and other machinery
Monitoring and correcting bus design flaws
When a bus company or agency violates their duty of care, they've become negligent, meaning they did something wrong or failed to do what they're supposed to do to keep passengers safe.
Examples of negligence that cause bus accidents include:
Bus drivers under the influence of drugs or alcohol
Bus drivers who aren't qualified or properly trained
Drivers working without enough sleep
Poorly maintained buses and equipment
Improperly loaded or overloaded buses
Proving Bus Accident Negligence
To win your bus accident lawsuit, you have to prove the carrier's negligence was the cause of your injuries. Because common carriers have a higher duty of care to passengers, you won't need as much evidence to prove your case as you would in other injury claims. But you should still collect as much evidence as you can.
Evidence to support your case will include:
Photographs taken at the time of your injury and several days after
Witness statements
Incident or police reports
Weather reports
Your written recollections about the accident and your injuries
In addition to evidence of fault for the accident, you'll need to collect evidence of your injuries, such as:
Your medical bills and records
Receipts for out-of-pocket expenses
Proof of your lost wages
Filing a personal injury claim is never easy or straightforward. When you're going up against the Government – at any level, local, state or federal – it is important to have an experienced personal injury attorney on your side. The personal injury attorneys at Cowan & Hilgeman Law have successfully fought countless personal injury suits – including plenty of claims that other law firms routinely reject. Call (937) 222-2030 to schedule your FREE consultation with an experienced Bus Accident attorney.