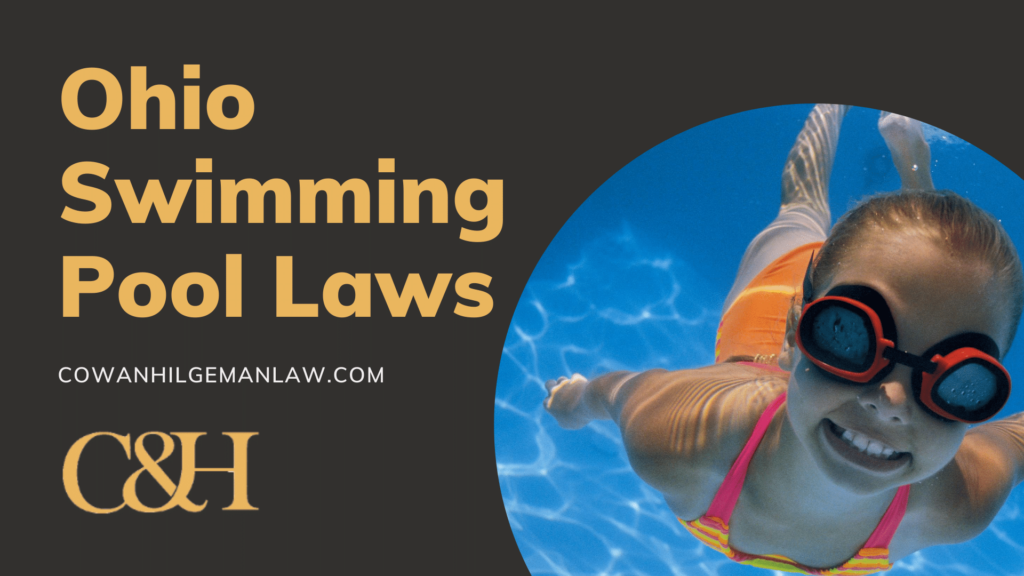 Summer is upon us in all of its temperate glory and it has many people seeking out a tried and true way to cool off – by a nice swim in the pool. This long held American tradition is almost an ideal image for most: beautiful blue water, a few floats or lounge chairs, and maybe even a drink or two to help enjoy the overall relation. On a scorching hot Saturday afternoon this summer, chances are high that a few neighbors will suggest gathering at your beautiful in-ground pool for shenanigans, and maybe some BBQ to boot. It all sounds like good clean fun, right? Of course! But as a homeowner or business owner in Ohio (or just as someone who enjoys a few laps at the public pools) it is important to be aware of the consequences of what can go wrong during a pool day.
According to the CDC, ten people die every day from unintentional drowning. Of these ten, two are still kids, usually aged 14 or less.
For our youngest and most vulnerable offspring, kids aged 1-4, accidental drowning becomes the number one cause of unintentional injury – and most of these children were being cared for by their parents, at home, and were left unsupervised for 5 minutes or less. What is even more concerning is that for every child that drowns, five more are hospitalized and require further care than the initial emergency room visit, and 50% of all drowning victims will suffer long term health consequences. Some all too common pool related injuries include Traumatic Brain Injury (insert link to previous article here), pneumonia, disembowelment, and even evisceration. These particular injuries typically lead to chronic care treatment that is necessary ( and expensive) for the rest of the victim's life.
There are many factors that can reduce the risk of injury while enjoying the pool – mainly, proper supervision. The U.S. Lifesaving Association reported that lifeguards "prevented more than 564,000 water-related injuries" on average in recent years. However, most homeowners will not have a lifeguard on duty (and may not even have an adult trained in CPR present) and not all public pools will have a lifeguard either. You can also ensure that you have pool safe toys, a deck built with non-slip materials, and avoid owning a diving board. You can make sure the pool is covered when not in use, and child safe gates ( at least 4' tall with self-closing latches that open outward) and locks prevent unsupervised entry into the pool area.
Yet even with these preventative measures in place, you may still be liable in the event of injury at your pool.
In the state of Ohio, homeowners can also be held liable under the attractive nuisance law for injuries to a child trespassing on your property. Read more about Ohio private swimming pool laws here.
Here's what you should know:
Stay Safe; Stay Aware – Know Ohio swimming pool laws.
Supervise children at all times.
If a child goes missing while in your care, always check the pool first.
Keep proper safety equipment, such as a grab pole and a telephone, in case emergency services are needed.
Keep children away from skimmer openings, drains and other places they could get trapped.
Learn CPR for both children and adults
There are Ohio swimming pool laws and federal laws to protect your rights if you or a loved one have suffered an injury related to a swimming pool, hot tub, or spa. Don't just assume that your homeowner's insurance will cover a pool related injury – talk to your coverage provider and see what is actually covered, or if your plan includes an umbrella policy within it. If you or a loved one have been injured in a public or private pool, you may very well be entitled to compensation. Call us today for a free, no obligation consultation on your case – (937) 222-2030.