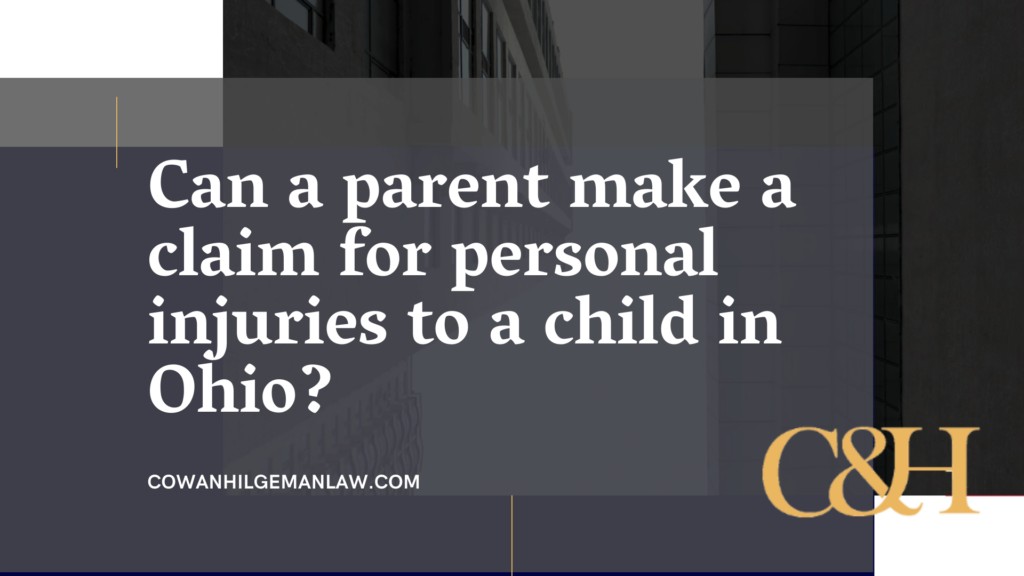 As a parent, our children are our top priority. We go out of our way to safeguard their health, well being, and to secure their happiness. Yet despite our best efforts, kids have a way of getting themselves into trouble. They learn the hard way. They have accidents. It's entirely normal and to be expected – but sometimes it is others' negligence that causes our kids to get hurt and isn't their fault.
In these instances, it is easy to be bewildered that harm has come to your child, and to want to protect them in every way possible. In some cases, a child may have a right to make a personal injuries claim; however, in the great state of Ohio, it falls upon us as parents to take care of this for them. But is this legal?
Like most legal aspects of your minor child's life, you are their legal guardian. According to The Ohio Rules for civil procedure rule 17(b) states that a "parent or legal guardian can file suit on a minor's behalf." When this occurs the parent is said to be suing as "next friend" of the minor.This means that minor is not required to personally seek recovery in court, and that the minor's parents are allowed to stand in for him or her.
So yes, a parent can file a personal injury claim for their child in Ohio.
However, the law handles cases with minors differently than they would for an adult. The following highlights the major differences when dealing with a minor's personal injury case, and how you as a parent can resolve the case for them.
The first thing you should be aware of for your child's case is the difference in the statute of limitations for a minor. In cases with adults, the legal time frame for filing a claim is typically within 1-2 years of the injury, depending on the type of case. When a minor is involved, the time frame does not start until the child comes of age, at 18. This means that if your child is injured at say, age 14, you will not start the clock on the statute of limitations until their 18th birthday. So you have two years after the birthday, rather than two years after the date of the incident.
Beyond the change in the statute of limitations, as a parent you should be aware that you are entitled to consortium.
What is consortium? Consortium is ¨an association of two or more individuals, companies, organizations or governments with the objective of participating in a common activity or pooling their resources for achieving a common goal.¨ It can also be interpreted as the time you spend with a loved one under the activity category. So in this case, it means that you as a parent are entitled to compensation for a life-altering injury to your child. If you as a parent are forced into a new lifestyle because of the need to care for your child's injuries, this can fall under loss of consortium, and you may be entitled to compensation as well. Like the statute of limitations, the time frame for loss of consortium begins after the minor turns 18. While there is precedent for receiving compensation for parents with loss of consortium involving a minor, it must be thoroughly proven in the claim. The best way to make sure this is fully covered in court is to enlist the aid of an experienced personal injury attorney.
Finally, one of the biggest differences in filing a claim for a minor in Ohio is how settlements are handled. As an adult, you have the legal authority to come to a settlement after being injured, without having to continue your suit in court. Yet as a child, this is not the case.
Under Ohio law it is known that a child can not be considered to have legal capacity to make contracts, including settlements. Even if a parent or legal guardian is filing a claim on behalf of a minor, a settlement will still have to go to court. This is how the Ohio court system ensures that any settlement is in the best interest of the minor, by providing a forum for unbiased judgement.
If your child has been injured and you feel you may need to file a personal injury claim on their behalf, call us today at (937) 222-2030. Our compassionate and dedicated staff will help you to handle the legal aspects of your claim so you can go back to doing what you do best – focusing on caring for you child.