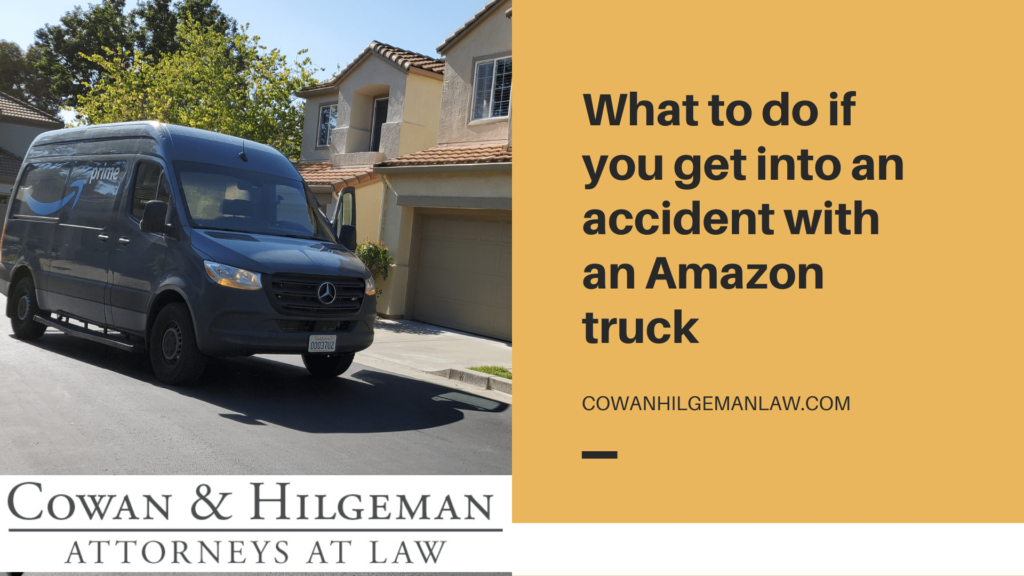 Car accidents can be extremely disruptive. Getting into an accident with an Amazon truck can cause many more headaches than a regular car accident. Depending on the severity of the accident, they can easily frighten you, or worse, cause damage to you or your vehicle.  What's even worse is when you are hit by a large commercial vehicle. More likely than not, your car won't win in that head-to-head.
If you live in Ohio and you get into an accident with an Amazon truck, you may be entitled to compensation.
Yet this corporate giant has a ready and waiting team hoping to keep those costs down as much as possible – and doing their best to ensure you don't receive a payout. If you do get into an accident with an Amazon truck, you should follow the steps here to help ensure you receive the best possible outcome from the accident:
First of all, make sure you are okay.
If you need medical attention, do not hesitate to call 911. Your health and safety is of the utmost importance. Don't put this up to chance, as you may have jarred your neck or back and may not feel it during the initial shock of the accident. Even if you don't seek medical attention at the scene, you should follow up with a doctor in the next 24 hours, and keep copies of the doctors report for future reference.
Second, notify law enforcement, and have them come to the scene to file a report.
Be thorough in your recounting of the incident, but don't let your feelings overwhelm you. Try to stick to the facts as much as possible, so the officer can remain as objective as possible. You can ask the officer who they cite at fault in their report – follow up with them at the scene to find out how long they have to file it. Usually, the report will be filed within seven business days.
The next step is the same as you would follow in a normal accident – exchange information with the Amazon driver.
You should take down their name and driver number, the make and model of the vehicle, their insurance information (including if they have an extra policy provided by amazon) the plate number, and also if they were on or off duty at the time. Along with exchanging information, you should document the incident as much as possible: the date and time of the accident, the street or intersection, weather conditions at the time,  photos of any damage to either vehicle, and any other information pertinent to making a report (such as the driver running a red light). 
Keep copies of all of this information. If there were any witnesses to the incident, ask them if they would be willing to make a statement and ask for their contact information.
After all this has been done, you should report the accident to your insurance company, and also to Amazon. While Amazon has a policy of often hiring independent contractors for their drivers (making it difficult to make a claim against the company itself) it doesn't hurt to be thorough. Depending on the circumstances of your accident with an Amazon truck, it may be difficult to make a claim on your own.
If you have any questions about filing a claim, or just need guidance on how to receive the best possible outcome from the incident, you should contact a dedicated personal injury firm about the process. Having a firm represent your interests can extremely reduce the headaches of filing for a claim, and ensure you receive the compensation you deserve from an accident with an Amazon truck.   Help is only a simple phone call away. Contact us today at (937) 222-2030 to schedule a free, no obligation consultation.