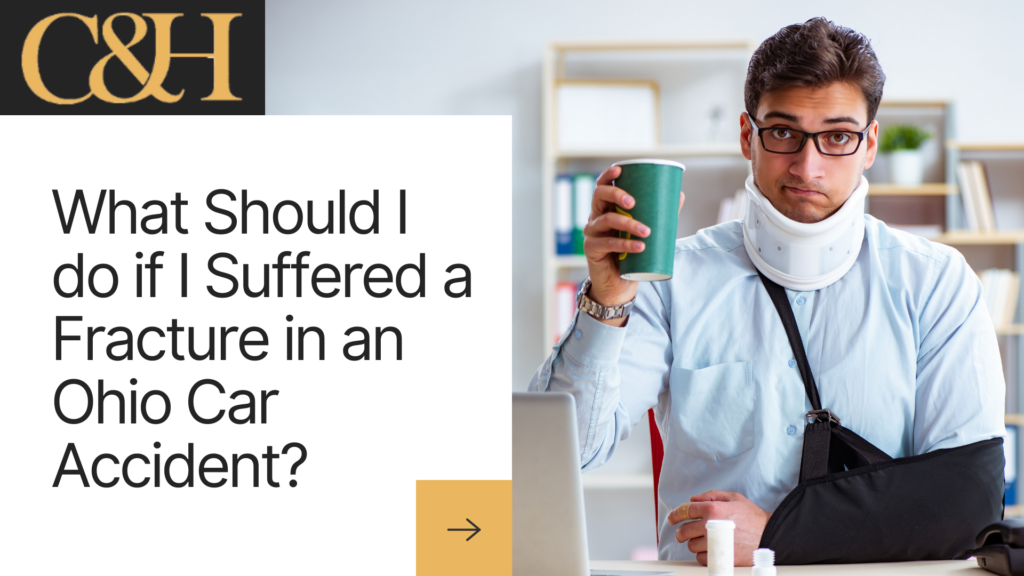 Being involved in a car accident can be a life-altering experience. Even a minor accident can result in a confusing chain of events, from the moment your vehicle makes impact, there are important steps you will need to take to make the whole incident as painless as possible. But what if you suffer from an injury, like a fracture in an Ohio car accident? What do you do next?
First things first – if you have an injury, get help!
If you think that you have a fracture, you will need to have x rays at the hospital. Call 911 and ask them to dispatch emergency personnel – paramedics and the police.
You will need to file an accident report with local law enforcement anyway, so don't hesitate to call.
Speaking of documentation, if you are feeling well enough to walk around, take photos of the scene before anything is moved, exchange insurance info with the other involved party, and see if there are any witnesses who are willing to make a statement about what they saw. Try to gather as much evidence as you can, without overextending yourself. It can help you later.
If you can go to the hospital immediately, go as soon as possible.
Leaving an injury untreated for any amount of time can lead to serious health complications later on. It can also make your legal case more difficult.
While you are in the ER, ask the doctor who sees you for copies of any reports they file, including the extent of your injuries, any referrals to see an orthopedic surgeon or physical therapy, and orders for when you can return to work. Having this information all together can help you to file a strong case if you choose to go that route.
So you've seen a doctor, determined you have a fracture, and are now at a loss about what to do.
Should you file a lawsuit? Take a settlement? File a claim on your own insurance? These are very important questions, and the answers will vary on a case by case basis; however, here are some general guidelines for the state of Ohio:
The statute of limitations in Ohio is two years, meaning you have two years from the date of the accident to file a suit or claim. If you go over that time period (with a few exceptions for minors or other circumstances) you will not be able to file at all.

Modified comparative fault laws exist in Ohio, meaning that you could be determined to bear a portion of responsibility for the accident- say if you were speeding, or not paying attention to the road and react too slowly when you notice the other driver coming towards you. This can modify any damages awarded to you. If you are found to be 50% negligent or more, you may not receive any damages at all.

Being aware of what your insurance policy and the other person's insurance type is important. If they only have the bare minimum liability insurance required in Ohio ($25,000 per person, $50,000 per accident, with $25,000 for property damage) your total losses may not be covered by the damages awarded by the insurance company. You may be offered a settlement, but that may not be your only option.
In these cases, you may want to consult a personal injury attorney for guidance. Facing an auto accident can be an extremely overwhelming experience, but you don't have to face the claims procedure alone. A dedicated, experienced personal injury with focus exclusively on helping to receive the compensation you deserve. Don't risk losing out on your case. Contact an Ohio Personal injury attorney you can trust today. Cowan & Hilgeman offers free phone or video consultations, with no obligation at all – call (937) 222-2030 today to schedule a chat with our experienced personal injury attorney who can tell you exactly what to do if you have suffered from a fracture in an Ohio car accident