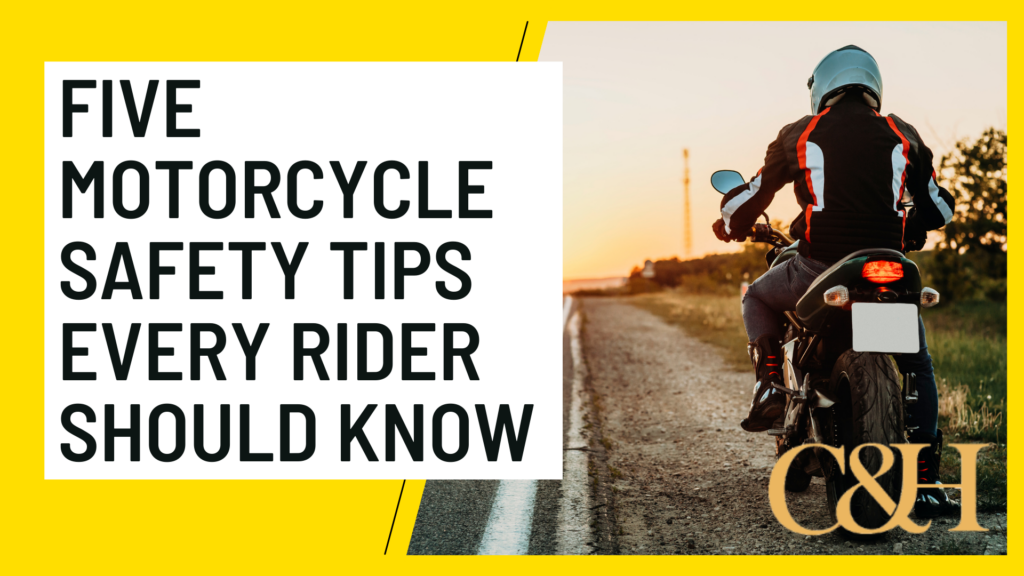 Although riding a motorcycle is a great way to get around town, it is also dangerous. In 2017, 5,172 motorcyclists lost their lives in fatal accidents across the country. An additional 89,000 motorcyclists suffered serious injuries. To avoid serious accidents, safety experts recommend a variety of motorcycle safety tips. While these tips will not prevent every accident from occurring, they can significantly reduce the risk of getting into a serious motorcycle crash. Here are the top five motorcycle safety tips that are recommended by our Dayton law firm.
1 – Always Wear a Helmet
First, it is important that you always wear a helmet when riding a motorcycle. In 2017, 39 percent of motorcyclists who lost their lives were not wearing a helmet at the time of the crash. Despite these statistics, Ohio still does not have a universal helmet law. Even so, motorcycle safety experts urge motorcyclists to wear a U.S. Department of Transportation (DOT) approved helmet always when riding. This is the best way to reduce the risk of suffering from life-threatening brain injuries.
2 – Wear Visible and Appropriate Gear When Riding
While motorcyclists should always wear a helmet, they should also wear reflective or bright clothing. Doing so will increase the chances that other drivers will see them on the road. In addition, motorcyclists should also wear protective clothing and gear to minimize the severity of injuries in case of an accident.
Some of the best motorcycle safety clothing for includes:
Leather jackets
Leather boots with nonskid soles
Kevlar riding suits
Goggles
Riding gloves
Leather clothing helps avoid road rash should you tip your motorcycle. Proper footwear helps avoid burns from the extremely hot exhaust, while also protecting your feet and ankles if you are thrown off. Gloves help maintain dexterity and proper circulation in your hands.
3 – Take a Motorcycle Riding Course
Although clothing is important, it is also important to improve your knowledge of motorcycle safety. Thus, you should consider taking one of the numerous motorcycle riding courses in your community. This will help you improve your riding skills further. These classes are especially great for newer motorcyclists. However, even seasoned veterans can benefit from taking a safety course with the help of a certified safety instructor.
4 – Never Drive Drunk
While not everyone is legally obligated to wear a helmet or take a motorcycle riding course, they are required to avoid driving under the influence. In Texas, it is illegal and dangerous to ride a motorcycle under the influence of drugs or alcohol. Unfortunately, alcohol is a factor in 43 percent of all fatal motorcycle crashes. To reduce the risk of suffering from a severe motorcycle crash, it is important to refrain from riding when you are intoxicated. Instead, call a rideshare service such as Uber or Lyft to get you home safely. Also, use caution when riding after taking medications. Even over-the-counter medications can lead to fatigue and result in deadly accidents.
5 – Perform Consistent Motorcycle Maintenance
Finally, it is important to perform consistent motorcycle maintenance. Before riding, be sure to check your motorcycle's tires, brakes and lights carefully. Also, look for signs of oil or gas leaks, and clean and adjust every mirror. Furthermore, you should perform a safety check on your bike before every ride. Doing so, can help you avoid a serious and deadly motorcycle accident that could have been easily averted.
If you are ever unfortunate enough to suffer a motorcycle accident, you need experienced representation on your side. Motorcycle accidents are often physically, emotionally and financially devastating, and it's not a process you should go through alone. Call the experience motorcycle accident attorneys, Cowan & Hilgeman Law, at (937) 222-2030 to schedule your free, no obligation consultation.