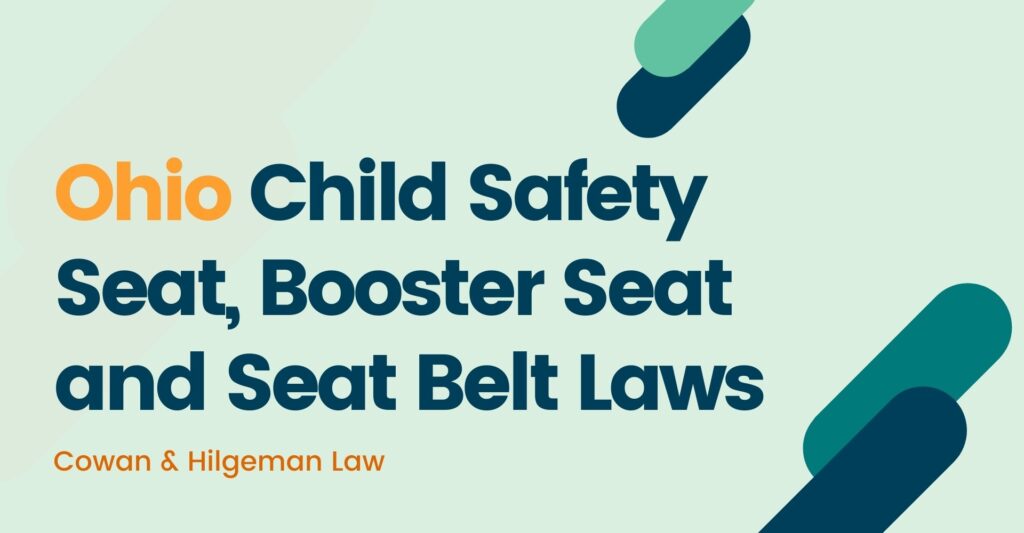 The importance of safety seat, child booster seat and restraint laws cannot be understated. In the United States, motor vehicle crashes are a leading cause of death among children. In 2018, 636 children 12 years old and younger died in motor vehicle traffic crashes, and more than 97,000 were injured. Of the children 12 years old and younger who died in a crash in 2018 (for which restraint use was known), 33% were not buckled up. Parents and caregivers can make a lifesaving difference.
What are Ohio's laws regarding child safety seats, child booster seats and seat belts?
Ohio Child Passenger Safety laws
state that:
– Children
less than 4 years old or 40 pounds
must use a child safety seat
meeting federal motor vehicle safety standards.
– Children
less than 8 years old
, unless they are at least 4 feet, 9 inches tall
must use a booster seat
.
– Children ages 8-15 years must use a child safety seat or safety belt.
If you do not follow these laws, fines will range from a minimum of $25 to a maximum of $75 per occurrence.
What type of car restraint device should I use for my child?
The
American Academy of Pediatrics
recommends placing a child in a rear-facing car seat in the back seat of a vehicle.
– The child should remain in a rear-facing car seat until the child exceeds the maximum height or weight for the car seat. At that time, the child can be placed in a front-facing car seat in the vehicle's rear seat.
– When children outgrow car seats, they may be transitioned into a booster seat. A booster seat allows for proper positioning of the seat belt, which is vital during a collision.
– Most children are tall enough to ride without a booster seat by the time they reach eight years of age. Parents should always ensure that the seat belt is positioned correctly before transitioning a child out of a booster seat into a seat belt.
Why does Ohio have child safety seat, booster seat and seat belt laws?
The state wants to protect children who are involved in car crashes. Requiring drivers to place children in car seats and other restraints reduces severe injuries and childhood deaths in traffic accidents.

Injuries that children may sustain in a car crash include:
– Traumatic brain injuries
– Spinal cord injuries and paralysis
– Fractures and broken bones
– Damage to internal organs
– Scarring and disfigurement
– Back and neck injuries

A child injured in a car accident could develop permanent impairments, requiring lifelong medical and personal care.
What Should I Do if My Child Is Injured in a Car Accident?
Car seats, booster seats, and seat belts reduce the risk of severe injuries from an automobile accident. They do not guarantee that a child will not sustain injuries. It is in your child's best interest to be examined by a physician after an accident, even though you might believe your child was not injured in the crash.
Childhood injury cases can be challenging. A child who sustains permanent disabilities has a lifetime of expenses, loss of income, and decreased quality of life to consider. The child deserves fair and just compensation for these damages.
However, the first hurdle is to prove the elements of negligence. You must prove that a party caused a car accident, and the crash resulted in your child's injuries.
If you were driving and you were at fault, your child could have a claim against you. Your car insurance may be required to compensate your child for damages.
Determining the cause of the accident and identifying the liable parties begins with an accident investigation. A personal injury lawyer can handle your legal matter so you can focus on your child's recovery and well-being.
The attorney gathers evidence, identifies the responsible parties, files insurance claims, and negotiates a settlement. If the other party refuses to pay a fair settlement amount, the attorney will discuss proceeding with a personal injury lawsuit against the at-fault driver.
When Do I Need to File a Claim for My Child's Automobile Accident?
The timing for filing a claim for a child depends on several factors, including the duration of your child's recovery. Your lawyer monitors the deadlines for you to ensure you do not miss a filing deadline for a personal injury lawsuit. Missing the deadlines for personal injury claims can result in a lawsuit being dismissed.