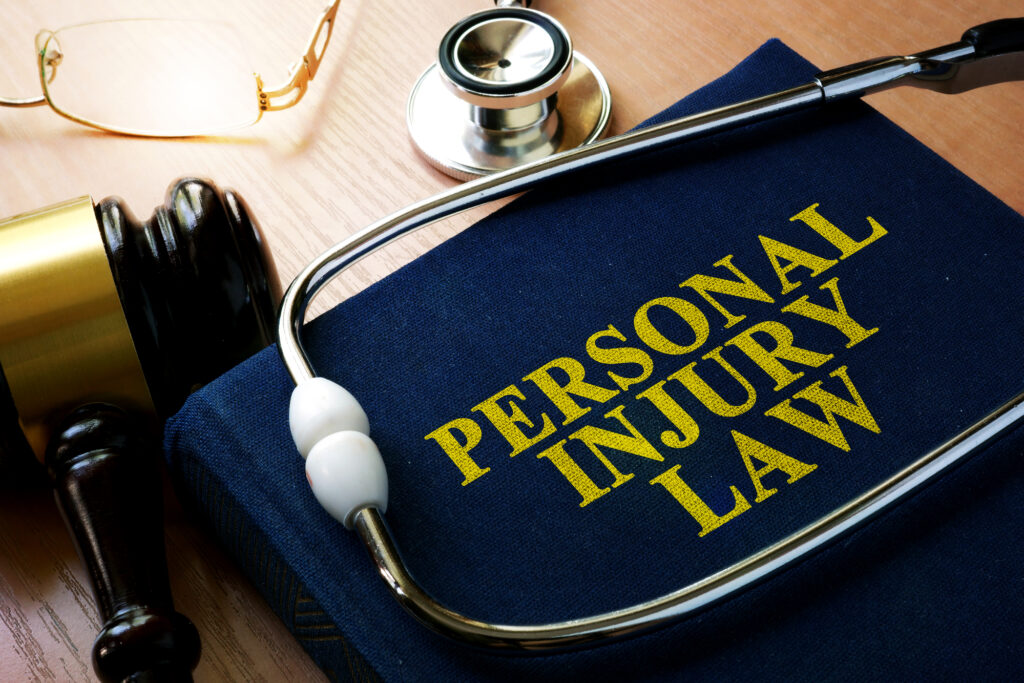 Personal Injury Lawyer Dayton, OH
Personal injury cases can be particularly difficult because there's often strong emotion and feelings behind them. This is primarily because when someone is involved in an accident, they are dealing with the aftermath that comes along with it. Accidents can leave someone with life lasting pain, emotional trauma, and even disabilities that will never go away. Moreover, there are also different reasons, as to why personal injuries happen, and there are different examples as well. For the first point, personal injuries can happen in an accident, due to negligence, lack of safety warnings, in relation to machinery work, furnace work, and more. However, personal injuries can have the cause behind them, be personal as well. An example of this, would be a personal injury, due to an attack such as a mugging, or a robbery that ends in severe injury, and more. Now, as for some of the most common examples of personal injuries, they can be something such as a slippery floor, which can cause concussions, machinery issues that can cause someone to lose their finger, handling hot materials without the proper equipment, which can cause severe burns and sometimes even third degree, and more.  It is important if you or a loved one is ever involved in an accident due to the negligence of someone else to contact a personal injury lawyer in Dayton, Ohio from Cowan & Hilgeman right away. There is a statute of limitations that exists in every single state, and if you miss it, you will be unable to file in the future.
So, what are some of the most common types of personal injury cases? They may vary from state to state, but there are a few types that personal injury law firms see daily.
---
---
Car Accident Cases
Car accidents can happen anywhere. Most people need to drive to get to work, take children to school, go grocery shopping, and do other everyday activities. Because of the frequency of car accidents, it is likely that you or a family member will face one at some point in your life. Moreover, car accidents happen, because people on the road are unpredictable. On the road, the driver behind the wheel could be inexperienced, they may be in a hurry and try to jump ahead of people, they may be known for being aggressive and getting away with nearly causing accidents and more.  These are some of the reasons why car accidents happen, and these are some of the reasons, and the driver who suffered an accident is not always at fault. It is always important to seek compensation for a car accident as soon as possible. You should speak with a lawyer, rather than always just settling with insurance, because insurance agents are trained to give you the least amount in damages possible for your case. After all, they are a business and depend on making more money than spending. Often, you will get better compensation for your injuries and other damages if you file a case against the negligent party.
Slip and Fall Cases 
Slip and falls or another very common type of personal injury case, as they can happen literally anywhere. These can be a little more complicated to determine fault because you need to be able to prove that, without a doubt, there was negligence involved in your case. If the environment was unsafe, causing you to slip at all, this is good proof that another person was at fault for your accident.  This is especially true, when it comes to wet floors.  While often wet floors at stores do have warning signs, sometimes they do not, and when this happens, the individual who is at fault and may have to pay compensation, based on the injury, may be the store owner. You should always take pictures of the scene of the accident the day your injury occurred so that you have evidence to offer in court if needed. Your lawyer will know whether your photos will do more harm than good or will be useful in your case.
Medical Malpractice
Medical malpractice lawsuits can be particularly complicated because you need to prove that whatever happened to you was due to the negligence of a medical professional, not something that would have happened on its own anyway. An experienced personal injury lawyer will know how to offer useful proof in your case.
No matter what kind of injury you have sustained, as long as you can prove that it was because of somebody else's negligent behavior, you may have a case. You should always speak with a knowledgeable lawyer as soon as possible after being injured so that you do not miss the statute of limitations for filing. Contact a personal injury lawyer in Dayton, OH from Cowan & Hilgeman today to get started. 
Car Accident Cases
Car accidents are one of the most common types of personal injury cases. Almost everyone in the United States rides in a car, whether it is daily to go to work or less often to run errands. If you are involved in an accident on the road, you need to seek compensation from the at-fault party. You can seek damages for both your medical costs and damages for a destroyed vehicle. 
Dog Bite Cases
If you or someone you care about was bitten by a dog, you may be entitled to compensation from the owner or handler, depending on the circumstances. You will be more likely to have a strong case if you were injured on public property, as private property cases with dog bites can be more complicated. When a dog owner takes his or her pup out in public, the dog is expected to be on good behavior and not aggressive toward other people or dogs. A dog owner is expected to be able to control their pet. At the same time though, dogs are still animals, and sometimes, they can be unpredictable and bite strangers. This may be especially true, if one's dog has a reputation for doing so, due to them being afraid of strangers, they grew up in a previous rough home and are known for being rather aggressive at times, and more. This is not excusing the behavior, but it is saying that an owner should be able to discipline their dogs, while also being aware that sometimes dog bite cases may happen, and they should be atoned for. Your lawyer will know whether or not your case is worth pursuing, which is why it is so important to set up a consultation. 
Common Types of Personal Injury Infographic

What Evidence Do I Need?
In the aftermath of a personal injury accident, such as those listed above, it will be imperative that you gather as much evidence as you can. So for example, if you were in a car wreck, then your lawyer will need the other driver's details, photos and video of the scene, medical documentation for your injuries, names of witnesses, a copy of the police report, and anything else relevant to your case. The more evidence you have for your lawyer to work with, the better they can intervene to guide you.
Who Can Be Witnesses For My Case?
There are many people who can be useful witnesses for your case, including family members, friends, work associates, bystanders, and medical professionals. Whether these people were there or not, they can still be helpful. For instance, your significant other can be a witness who talks about how your daily life and health has been adversely affected since the accident. Or, maybe you had friends in the car with you as passengers when the car crash happened. They can support your side of the story in how the collision unfolded.
How Do I Know I Have a Case?
What turns an everyday accident into a personal injury case is when someone was seriously hurt and there is an individual, business, or other party who was at-fault. Of course, accidents happen all the time in daily life and it's not something we can always prevent. But when someone acts without regard for the safety of others and causes an accident because of it, they can be held accountable by law. 
When Is The Right Time To Call a Lawyer?
To put it simply, if you have asked yourself whether you should call a lawyer, then the answer is probably yes and to do so right now. At minimum, we can let you know if you have a case and what your options are moving forward. From there, you can decide what you want to do. Lawyers are professionals of law, so they understand how the law works and what they can do to help people. If you aren't sure if you need a lawyer, give yourself some peace of mind by finding out today. 
What Else Should Victims Know?

Many people do not realize the extent of their rights and compensation eligibility after a serious accident that someone else caused. Too many innocent people suffer physically and financially because they are being taken advantage of by money hungry insurance companies and others who don't have their best interest at heart. But we do, and we hope that you call us immediately if you have pressing questions that need answering. You may be entitled to so much more than just the insurance settlement you are being offered. Let us advocate for you from here on out.
How Will My Settlement Be Calculated?
Upon further evaluation of your case, your lawyer can let you know what your potential monetary award would be if you pursued a legal claim. What are the most important things that your lawyer will need during the consultation is evidence and supporting documents based on your injury, damages, and loss. The more information that you have for your lawyer at the time of your appointment, the more readily that they can help you and calculate an accurate estimated settlement.
What Shouldn't I Do?
After notifying your insurance company about the accident, you may be contacted by an insurance adjuster. This person may come off very friendly and be curious about how you were feeling, but they are actually hoping you will make certain statements so that your claim can be greatly reduced or denied altogether. What you should not do during this time is provide a recorded statement to an insurance adjuster and then close your claim. By doing so, you could be hindering your chances at restitution and abandoning your ability to pursue further compensation if you need it in the future.

Why Do I Need To See The Doctor Right Away?
The reason why it's so important to see a doctor after an accident even if you were not obviously injured, is that you could still have sustained injury that needs medical attention. Furthermore, in order to have a strong personal injury case, you will need a paper trail that shows the extent of your injury. Medical documentation will be a key part of your claim if you decide to move forward. Not only is it for the betterment of your claim to see a doctor, but also for the betterment of your health and recovery.
Who Can I Rely On For Legal Advice?

During this time, you may have friends and family who want to give you advice on what to do next. But the truth of the matter is that unless they are legal professionals, they are not going to be fully attuned to the nuances of your situation. Even if someone you know was also in a personal injury case, their circumstances are going to be different than yours. A lawyer is someone that understands the legal system and can offer advice based on your individual situation. Be wary of lawyers that tell you they can guarantee a certain outcome for your case. There is no way to absolutely confirm that a desired verdict will happen, however, a reputable lawyer will work relentlessly for your behalf. Contact our team now for help.

Contact a Personal Injury Lawyer from Cowan & Hilgeman Today
There are so many different things that go into personal injury cases that it is important to set up an initial consultation to go over your case. Consultations are typically free, which means there is absolutely no harm in reaching out to a lawyer. You also do not need to have a great amount of money to file a case. Often, personal injury cases are billed on a contingency fee basis, which means you only pay your lawyer if he or she wins your case. This means that you have absolutely nothing to worry about when going to court and your lawyer will do his or her best to fight hard for you so that everyone can get the compensation they deserve.
Lawyers offer you a much higher chance to win your case, and they also can likely get a much higher amount of compensation than you would have received on your own. Experienced personal injury lawyers, like the ones who practice at Cowan & Hilgeman, know what kind of compensation you can file for in a case and what the likelihood of getting it is. They can also give you advice on whether a settlement offered is fair and what other damages you may want to negotiate into it. Reach out to one of our lawyers today to set up a consultation.
Common Mistakes to Avoid When Hiring a Personal Injury Lawyer
If you have been hurt in an accident caused by another party, it is important to have a skilled personal injury lawyer in Dayton, OH on your side. He or she will help you pursue compensation and protect your legal rights. However, you don't want to hire the wrong lawyer.
Here are some common mistakes to avoid when hiring a personal injury lawyer.
Hiring a lawyer without the proper experience.

Not just any lawyer can successfully handle a personal injury case. For instance, if you hire a tax or estate lawyer to take your injury case, he or she may not be aware of the specific personal injury laws in your state and can't handle your case property. As such, it's important to work with a lawyer who specializes in injury cases. In addition, you should try to hire an injury lawyer who has experience with your specific type of accident. If you, for example, suffered harm while under a medical professional's care, you'll want to work with a medical malpractice lawyer.

Paying a lawyer upfront.

The majority of personal injury lawyers work on a contingency basis. This means that they will take a percentage of your settlement at the end of your case. If you lose your case, you don't owe your lawyer any money. Be weary of a personal injury lawyer who requires you to pay an upfront fee.

Selecting a lawyer without any trial experience.

Most personal injury cases get settled out of the courtroom. However, if the insurance company is not willing to offer a fair settlement and you have to go to court, you will want to work with an injury lawyer with trial experience. If the insurance company finds out that your lawyer does not have trial experience, they may try to take advantage of you.

Choosing a lawyer who promises you the most money. When you're dealing with medical bills and other expenses from your injury, it may be comforting to hear a lawyer promise you a lot of money. However, an injury lawyer can't accurately tell you how much your case is worth before gathering all the facts. If a lawyer promises you a lot of money during the first meeting, you may want to look for a different lawyer to represent you.
Common Mistakes To Avoid When Hiring A Personal Injury Lawyer Infographic

Personal Injury Law Statistics
According to the Ohio Department of Public Safety, there were 249,652 total car accidents in Ohio in 2022. In 5,831 of these, there were serious injuries involved. A car accident lawyer will be able to help you with the investigations that are required to find out exactly who was at fault for the accident and how to recover damages. You might even have the opportunity to be awarded for non-economic damages for pain and suffering, emotional distress, or loss of companionship. All of these are things that your legal team can help you further investigate and discover to ensure that you receive what you are owed in compensation for the accident. With all this being said, reaching out to an experienced lawyer as soon as you can after your accident is likely your best next step.
When Should You Contact a Truck Accident Lawyer 
When involved in an accident with a truck it can be very detrimental and confusing. Making sure that you seek medical attention for any injuries is one of the most important steps, but the next is reaching out to a truck accident lawyer in Dayton, OH to better understand how you can receive the compensation from the accident to ensure that everything that you lost is recovered. I know, it can be complicated trying to navigate through laws and dealing with insurance companies. That's one of the reasons why working with a professional such as a truck accident lawyer could be beneficial to you and your future.
An 18-wheeler truck weighs about 20 times as much as your car. The chances of you getting seriously injured in an accident involving your car and a truck are so much greater than the chances of getting hurt in a collision involving two cars. This is a serious matter and it needs to be handled with care and attention to detail, which is exactly what a truck accident lawyer in Dayton, OH can provide you with. If you seek to receive compensation for the damages caused to your life, property, and well-being then you will need a lawyer who is knowledgeable and has experience with truck accident cases to represent you.
Filing a claim against the at-fault party will be your next step in regaining your life and ensuring that you are fully compensated for all the damages from the crash and how they could affect your life in the future as well. The best time to act after an accident involving a truck should be immediate. Of course, after you have recuperated enough to reach out to a lawyer. Your lawyer will help you figure out who was responsible for the accident. This is a very important step that will allow you to get compensation from them before the statute of limitations passes. What some people don't know is that you can still sue for compensation even if you were partially at fault. This is something that you need to check with your lawyer since laws differ from state to state. Some states use comparative negligence to determine compensation for the plaintiff when he or she could be partially at fault. This could result in your final settlement being reduced by the percentage of fault that you hold for the accident.
Call Cowan & Hilgeman to schedule an appointment with a truck accident lawyer in Dayton, Ohio.
---
Client Review

"Very professional, definitely goes above and beyond!! Jack was always available to answer questions and explain things. Would definitely recommend!" Elaine Anderson