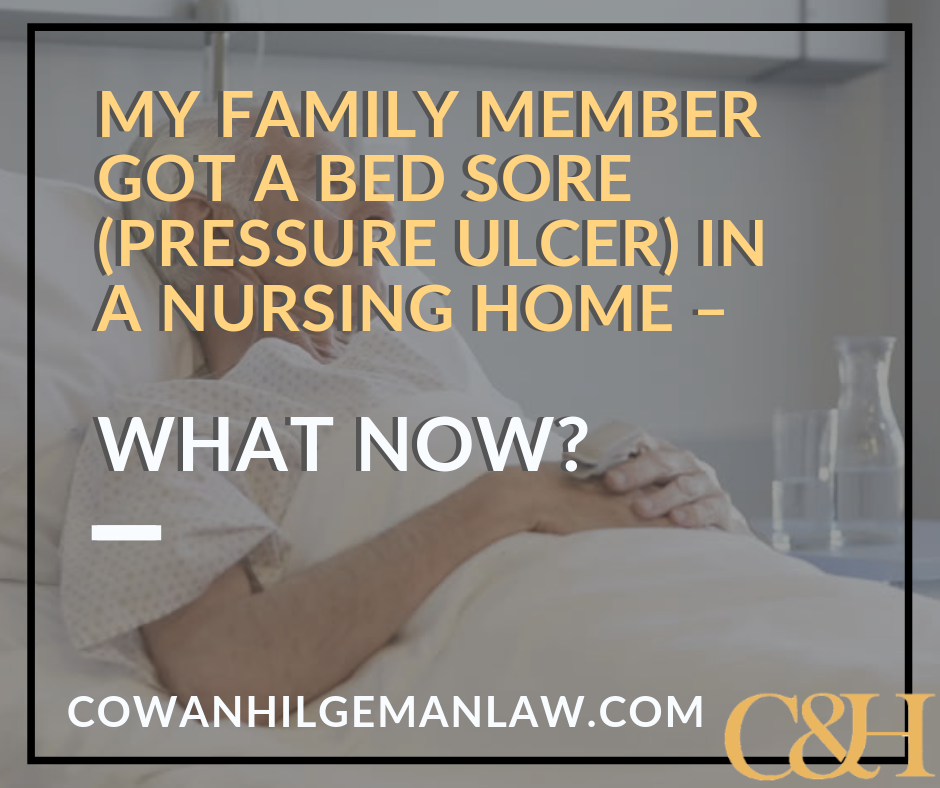 Nursing home negligence and long-term care negligence can be seen in many forms. Unfortunately, victims of nursing home negligence and long-term care negligence are often unable to care for themselves. As family members of the aging population, we trust that nursing homes and long-term care facilities can properly care for our elderly family members and ensure their safety.
Typical indicators of nursing home negligence and long-term care negligence can be seen in the following cases:
A bed sore or pressure ulcers
Dehydration
Falls
Neglect
Abuse
Medication Errors
Conditions Resulting in Death
A bed sore – also called pressure ulcers and decubitus ulcers – are injuries to skin and underlying tissue resulting from prolonged pressure on the skin. A bed sore will most often develop on skin that covers bony areas of the body, such as the heels, ankles, hips, coccyx and tailbone.
What are the symptoms of a bed sore?
The Mayo Clinic notes that common warning signs of pressure ulcers are:
Unusual changes in skin color or texture
Swelling
Pus-like draining
An area of skin that feels cooler or warmer to the touch than other areas
Tender areas
What causes a bed sore?
According to Mayo Clinic, bed sores are caused by pressure against the skin that limits blood flow to the skin. Other factors related to limited mobility can make the skin vulnerable to damage and contribute to the development of pressure sores. The primary contributing factors for bedsores are:
Pressure – Constant pressure on any part of your body can lessen the blood flow to tissues. Blood flow is essential to delivering oxygen and other nutrients to tissues. Without these essential nutrients, skin and nearby tissues are damaged and might eventually die.

For people with limited mobility, this kind of pressure tends to happen in areas that aren't well-padded with muscle or fat and that lie over a bone, such as the spine, tailbone, shoulder blades, hips, heels and elbows.
Friction – Friction occurs when the skin rubs against clothing or bedding. It can make fragile skin more vulnerable to injury, especially if the skin is also moist.
Shear – Shear occurs when two surfaces move in the opposite direction. For example, when a bed is elevated at the head, you can slide down in bed. As the tailbone moves down, the skin over the bone might stay in place – essentially pulling in the opposite direction.
What are risk factors for bed sores?
People are at risk of developing bedsores if they lack mobility and are unable to easily change position. Risk factors include:
Cellulitis – Cellulitis is an infection of the skin and connected soft tissues. It can cause warmth, redness and swelling of the affected area. People with nerve damage often do not feel pain in the area affected by cellulitis.
Bone and joint infections – An infection from a pressure sore can burrow into joints and bones. Joint infections (septic arthritis) can damage cartilage and tissue. Bone infections (osteomyelitis) can reduce the function of joints and limbs.
Cancer – Long-term, nonhealing wounds (Majjolin's ulcers) can develop into a type of squamous cell carcinoma.
Sepsis – Rarely, a bedsore leads to sepsis.
Are bed sores preventable?
Bedsores are preventable with adequate medical care. Bed sores can be prevented by:
Reducing pressure by the use of regular repositioning every 15 minutes to 2 hours.
Using support surfaces such as a mattress, bed and special cushions that help sit or lie in a way that protects vulnerable skin.
Adequate nutrition including hydration.
Early detection of bed sores which includes properly cleaning and dressing the wound.
If you or a loved one has been the victim of a bedsore or pressure ulcer, the injuries may be a result of medical negligence. There are strict deadlines to file a medical malpractice claim in Ohio, so do not delay in contacting a lawyer that has experience investigating bedsore medical malpractice claims.
The personal injury lawyers at Cowan & Hilgeman have recovered millions in compensation for clients. Our injury lawyers create plans of attack for each case tailored specific to the client's needs and expectations.
The lawyers at Cowan & Hilgeman handle claims involving personal injury, medical malpractice, nursing home negligence, product liability and wrongful death. We routinely recover compensation on cases that other law firms reject.
Cowan & Hilgeman offers free personal injury case evaluations and only get paid an attorney fee if we win your personal injury case.
Call 937-222-2030 to get your free case evaluation.