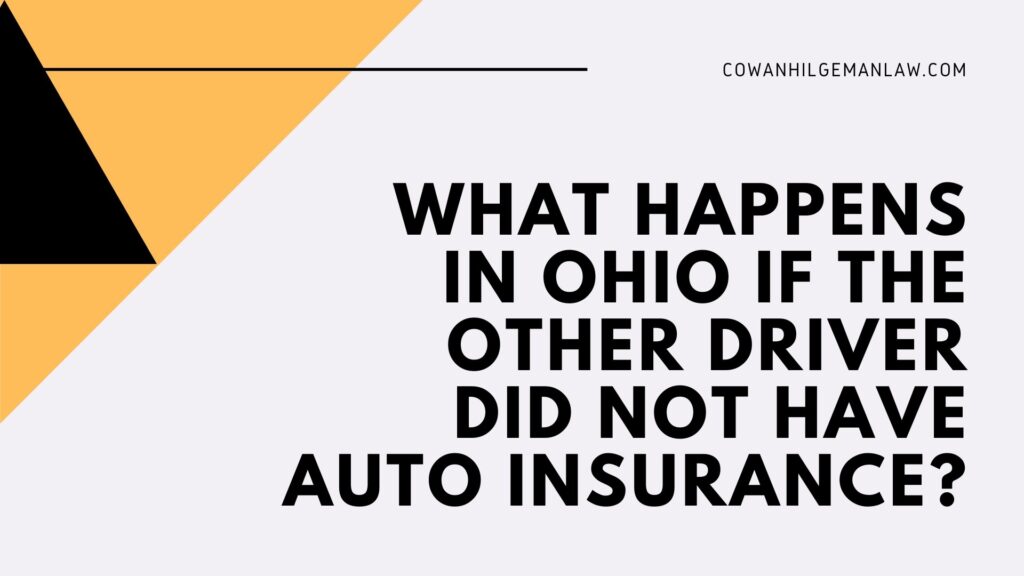 We all dread getting into an accident, but with so many uninsured drivers on the road, a bad situation can get so much worse if you get into an accident and the other driver did not have auto insurance. In 2015, it was estimated that 12.4% of all Ohio drivers were uninsured. Thanks to recent improvements in law enforcement detection and strict penalties, that number has fallen from an average of 16% in the early '90's.
Ohio does not require uninsured motorist coverage as part of the State minimum insurance coverage, so many people are left footing the bill for medical expenses, lost wages, and other damages after getting into an accident with an uninsured or underinsured driver.
If you have Uninsured or Underinsured Motorist Coverage
If you do have Uninsured or Underinsured Motorist coverage, your insurance company will pay your claims and then recover those costs from the at-fault driver. It is important to have experienced and aggressive representation during this negotiation, as with any settlement with an insurance company, to ensure that you are properly compensated for your injuries, property damage, lost wages, etc.
If you DO NOT have Uninsured or Underinsured Motorist Coverage
If you do not have Uninsured or Underinsured Motorist Coverage, however, things get more difficult to handle. The at-fault driver is still liable for any and all injuries caused by their negligence, regardless of their insurance status. The personal injury attorneys at Cowan & Hilgeman have successfully recovered compensation from uninsured and underinsured motorists countless times, and we will guide you through the process of filing a personal injury suit.
We will work tirelessly to get you reasonable compensation to cover:
Medical bills
Your pain and suffering
Lost wages
Disfigurement
Consortium
Property Damage
If you retain Cowan & Hilgeman as your legal representation, the uninsured driver will have to pay for an attorney to defend them in the lawsuit Cowan & Hilgeman will file on your behalf. If the at-fault driver does not defend themselves against our lawsuit, the court will grant a default judgement in our favor. The uninsured driver will probably lose their license, which they can work to re-earn after entering a payment plan or pay off the balance of their debt.
If the uninsured driver chooses not to work towards repaying the costs of repairing the other driver's car, medical bills, etc., the judgement holder can ask the court to garnish the defendant's wages or bank account until the judgement is paid. If the judgement is too large to reasonably be repaid via wage garnishment, the court can force the sale of the at-fault party's personal assets.
If you find yourself in the unfortunate situation of having been in a car accident and the other driver did not have auto insurance, do not hesitate to call the experienced and aggressive car accident attorneys at Cowan & Hilgeman Law. Call (937) 222-2030 to schedule your free consultation.