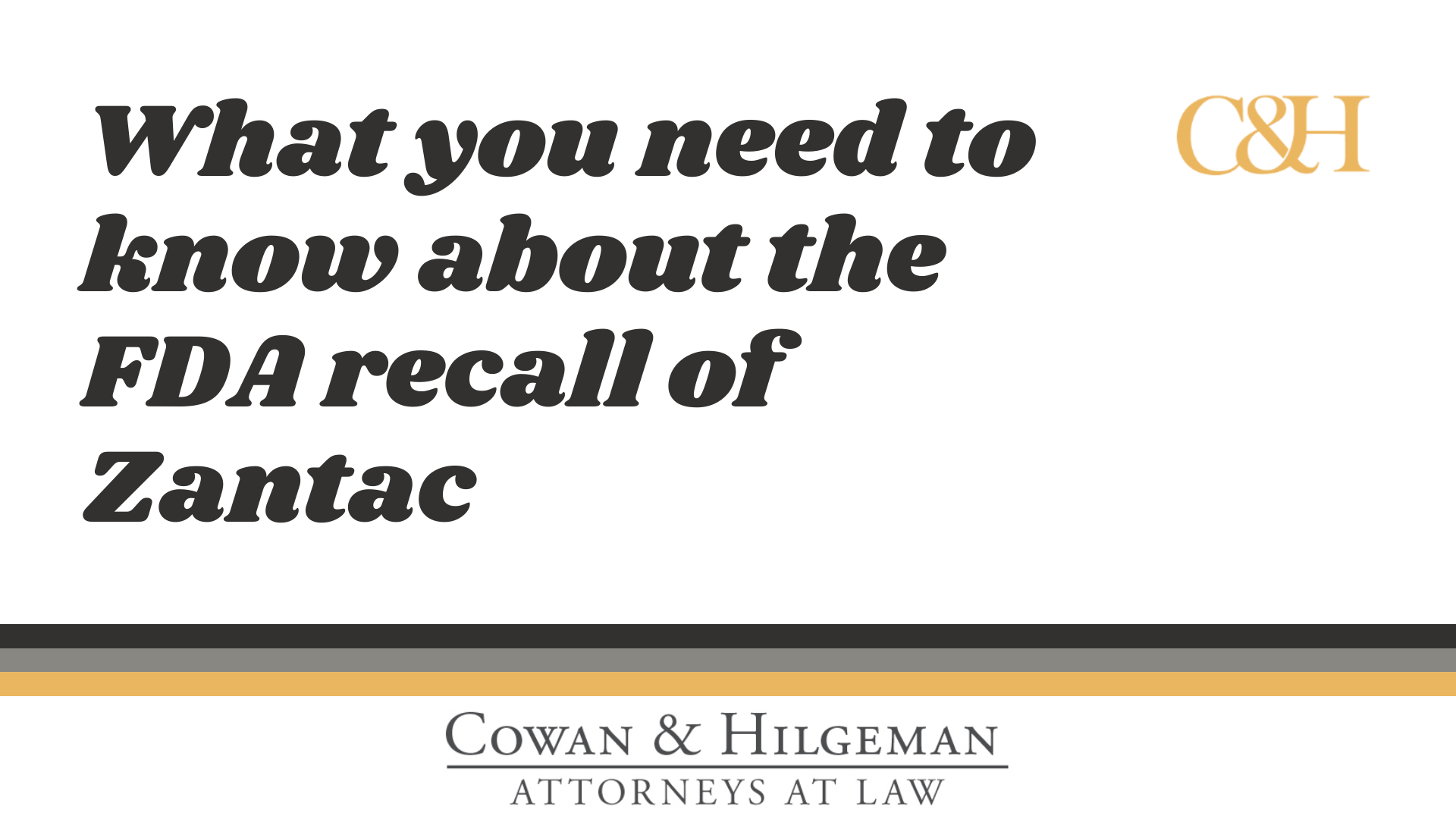 IMPORTANT RANITIDINE UPDATE: The United States Food and Drug Administration (FDA) issued a press release on April 1, 2020 requesting manufacturers to immediately withdraw all Zantac and generic Zantac OTC drugs from the market. The FDA has found that N-Nitrosodimethylamine (NDMA) in some ranitidine drugs "increases over time and when stored at higher than room temperatures and may result in consumer exposure to unacceptable levels…" The FDA, the World Health Organization (WHO), and the Environmental Protection Agency (EPA) classify NDMA as a cancer-causing substance, and has issued a Zantac recall, effective immediately.
Zantac has been on the market for over thirty years and millions of people have taken brand name product and its generic, ranitidine. For anyone currently taking these drugs, you should immediately contact your doctor to discuss your options.
What Is Zantac?
Zantac is a medication that limits the production of stomach acid and belongs to a class of medications known as H2 blockers. It is sold as a generic under the name of its active ingredient, ranitidine. Zantac is sold over-the-counter to treat heartburn and acid indigestion, and prescribed for the treatment of duodenal and gastric ulcers, gastroesophageal reflux disease, and certain stomach and esophagus conditions.
What Is NDMA?
NDMA is classified as a probable human carcinogen that can form as a byproduct of industrial processes or, as in Zantac, from exposure to high temperatures or storage over time. The chemical can be found in small quantities in drinking water but in levels that are considered generally harmless. The NDMA found in the recalled Zantac and ranitidine products is above levels considered safe by the FDA. NDMA had previously been found in the blood pressure medication Valsartan, which prompted a string of product recalls starting in July 2018.
NDMA exposure in Zantac and ranitidine has been linked to digestive system cancers such as:
Stomach cancer
Intestinal cancer (both of the small and large intestines)
Esophageal cancer
Prostate cancer
Pancreatic cancer
Leukemia
Non-Hodgkin's Lymphoma
Multiple Myeloma
Bladder cancer
Stomach cancer
Colorectal Cancer
Liver Cancer
Kidney Cancer
Additionally, in babies born to mothers who took Zantac consistently throughout their pregnancies, NDMA has been linked to cancers, including brain cancers, in young children.
The FDA has issued an order to cease all distribution of Zantac because it cannot guarantee the safety of it. While the drug itself does not contain harmful levels of NDMA, the cancer-causing chemical can form over time during shipping, handling and storage – especially if it is stored at high temperatures such as in your car. The Zantac recall applies to all manufacturers and brands.
Call us at (937) 222-2030 for more information about the Zantac recall
For more information on the Zantac recall, head over to our dedicated Zantac recall page