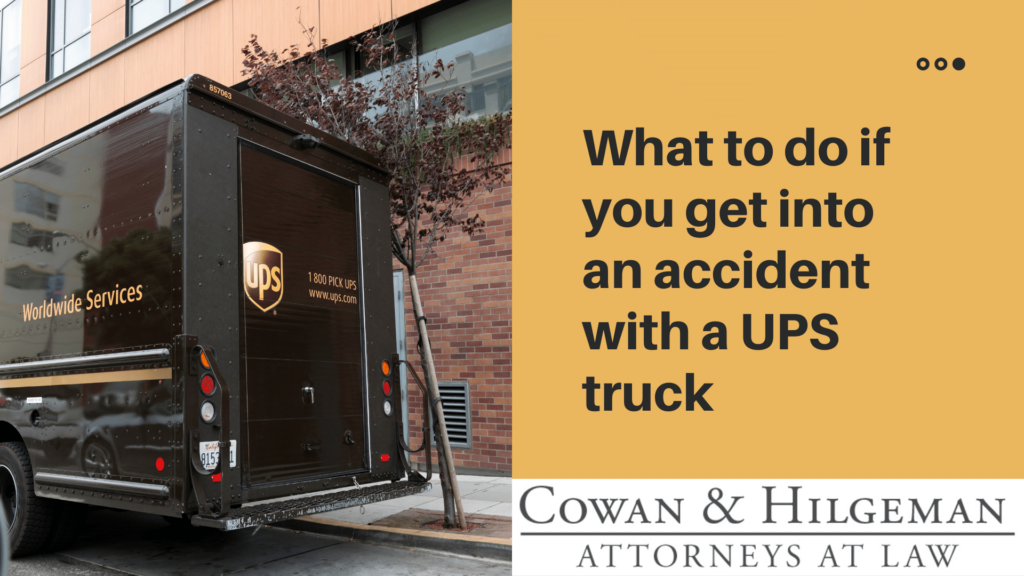 Facing a car accident can cause extreme strife and hardship in one's life. Even a small fender bender with a tiny hybrid can be traumatic, and cause extensive damages to your well-being and the care of your car. When the smallest vehicles can cause such issues, you might shudder at the thought of the potential issues with something larger – like a commercial UPS truck…
Sadly, these accidents are all too often the cause of long term damages, and can even be lethal. If you or a loved one live in Ohio and are involved in an accident with a UPS truck, there are things you need to know.
First, you could be the beneficiary of compensation if you are not at fault.
However, it must be mentioned that the last thing a company like UPS wants is to make a large payout. They will try to avoid this with a legal team, drawn-out court dates, and denying liability for the accident. Our firm despises this lack of culpability, and have dedicated ourselves to prevent this from occurring with our clients. If you find yourself in this situation, please know that there is help available to you. There are specific steps you can take to help make your case. The following tips will help you if you have a car accident involving a UPS driver.
First and foremost, stop for a moment and give yourself a once over.
Are you feeling disoriented, dizzy, or sick? If you need medical attention, call 911 immediately. Before you can do anything else, it is paramount that you take care of yourself. Don't push aside even the smallest discomfort, as it is common to have injured your neck, back, or spine without noticing it at first. This may seem odd, but when your body is put into flight-or-fight response, it may be difficult to ascertain the true nature of your injuries. If you do not get medical attention at the immediate time of the accident, it is still important that you visit a doctor in the next 24 hours. Request hard copies of the doctor's report for your claim, and tell your physician that you were involved in an auto accident with a UPS truck.
Next, call the police.
Do not let the driver leave until they arrive. Have them come to the scene to file a traffic accident report. State the facts from your point of view, and do your best to remain calm and collected while doing so. You can ask the arriving officer to tell you who they cite to be at fault on the record. Also make a note of when you can expect it to be filed. Usually, this will happen in a few business days.
Like any other traffic incident, you should be sure to collect information from the UPS driver. Record their name/driver ID, the make and model of the vehicle, their insurance information (including any coverage provided by UPS) the license number, and also, whether they were actively working a shift or not. Before vehicles are moved or you leave the scene, try to make a clear physical record of the incident. Some important details to document are:
Date/Time it occured
Your location
Was it raining, foggy, sunny? Weather conditions could be a factor to negligence.
Pictures of all vehicle damage
Other details that may explain why the accident happened (sthe driver ran a red light, failed to use a turn signal, didn't break, ect)
Put all of the information together to make a clear record of what happened. The more thorough you are, the better off you will be. Keep an eye out for any potential witnesses. If someone saw the accident, you may ask them if they would be willing to make a statement. Get their phone number and email.
Once you feel like you've collected all the evidence you can, the next step is to contact your insurance company
Call the UPS representative as well. (contact UPS at 1-800-742-5877) Don't be surprised if UPS tries to claim that they aren't liable for their driver – they often hire independent contractors, and try to use this as a loophole in these cases. Or if an employee was technically off duty (like a lunch break) or running a personal errand, the company can claim they were not at fault because it was outside the daily duties of the driver.
However, this does not mean that your claim is invalid – you just may need to take extra steps. No matter the circumstances of your accident with a UPS truck, or how UPS reacts, it can be tough to file a claim on your own. Don't be afraid to reach out for extra resources.
Personal injury attorneys have dedicated their careers to protecting people like you. Having a trustworthy firm represent you after a truck accident could be one of the best decisions you make during these trying times, and gives you the best odds to receive the compensation you need. Why give yourself more strife? Call us for a free consultation today – (937) 222-2030