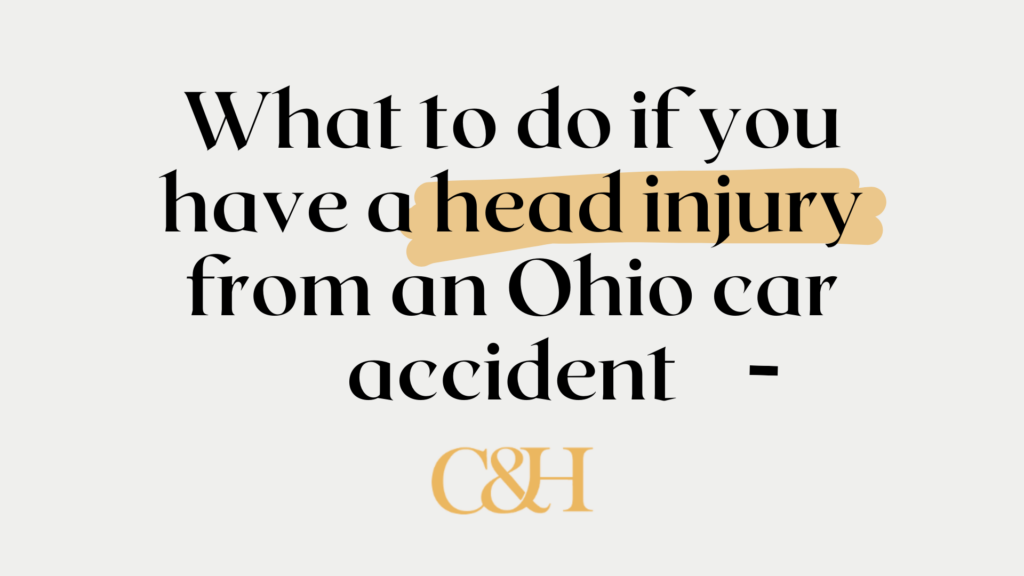 It's a beautiful morning in Dayton. You have the day off, so you decide to take a drive across town to visit an old friend. You stop to fill up your tank, but upon leaving the gas station, the unthinkable happens: you are involved in a car crash. Still in shock, you look around while feeling dizzy. You realize your head hurts. You know that you need to take action, but what is it? What do you do if you have a head injury from an Ohio car accident?
Before you panic, try to take a few deep breaths.
No one wakes up thinking they will be hurt. While accidents are unpredictable, there are a few things you can do to help manage bad situations like this. First and foremost, ask yourself a few questions to get oriented and figure out what steps you need to take next.
Are you safely out of the roadway?
Look around if you are able, and if possible, move your vehicle to the side of the road. Also, engage your hazard lights.
Can you assess the extent of your injuries?
Do a mental run-through of your body, and see what hurts. Can you move your neck? Are you feeling any tingles, dizziness, or numbness in your limbs? Be careful of fast motions- people in shock often don't realize how much they are hurt while
adrenaline
is active in their system.
Is help on the way?
If there is anyone else stopped at the scene, ask if they have call 911 or the police. If not, make the call immediately to help prevent further issues.
Remember to see a doctor as soon as possible. Even if you feel like your head injury is mild, you need to be examined. According to Dr. Rachel Banks "Many patients report car accident injuries arising 2 to 3 days after the incident and often leave a crash reporting no injuries."

What Happens To Your Body During a Car Accident? (arrowheadclinic.com)
What is a head injury?
The most common types of head injuries, aka traumatic brain injuires (TBI's), result from car accidents. They vary in severity, but all types of head injuries from an Ohio car accident should be taken seriously. For more information about brain injuries from Ohio car accidents, click here. The following list are common head injuries, and how you can recognize if you are suffering from them:
Concussion – a sudden change in movement results in your brain hitting the inside skull. Symptoms include :Loosing consciousness, Headache or feeling pressure, Amnesia about the accident/confusion, Dizziness, Nausea, Vomiting, Slurred speech, Feeling dazed or light headed, Ringing in the ears (tinnitus), Feeling tired or fatigued, Personality changes, and Difficulty concentrating.
Contusion – if your head hits the steering wheel, or an object in the car flies into you, you may wind up having a bruise on the brain or contusion. Symptoms can be similar to a concussion, but also include: Difficulty forming new memories, Numbness or tingling at the point of impact, Difficulty balancing or coordinating motions, and Difficulty forming sentences.
Penetrating head wounds – when an object pierces your skull, this can be very serious. Even if you can't feel it complications from a penetrating head wound include: Heavy blood loss, Bleeding from the ears, Seizure, Difficulty breathing, Loss of movement or sensation in limbs, Paralysis, Loss of consciousness, Loss of bowel and bladder function, and even can result in a coma
What happens next?
After the initial accident has passed, you've visited a doctor, and you have been diagnosed with a head injury, what should you do? Should you file an insurance claim, or a personal injury case? These important questions shouldn't be pushed aside. Your whole life may change due to a head injury from an Ohio car accident. You may lose wages and time at work, have difficulty adjusting to new limitations, and be unable to maintain your former role in the relationships in your life. The sooner you reach out for help, the sooner you can reclaim your life.
You don't have to suffer through this alone. Our knowledgeable, dedicated firm can guide you every step of the way through your case, and help you to get the fair compensation you deserve. Don't wait! Set up an appointment for a case consultation today.