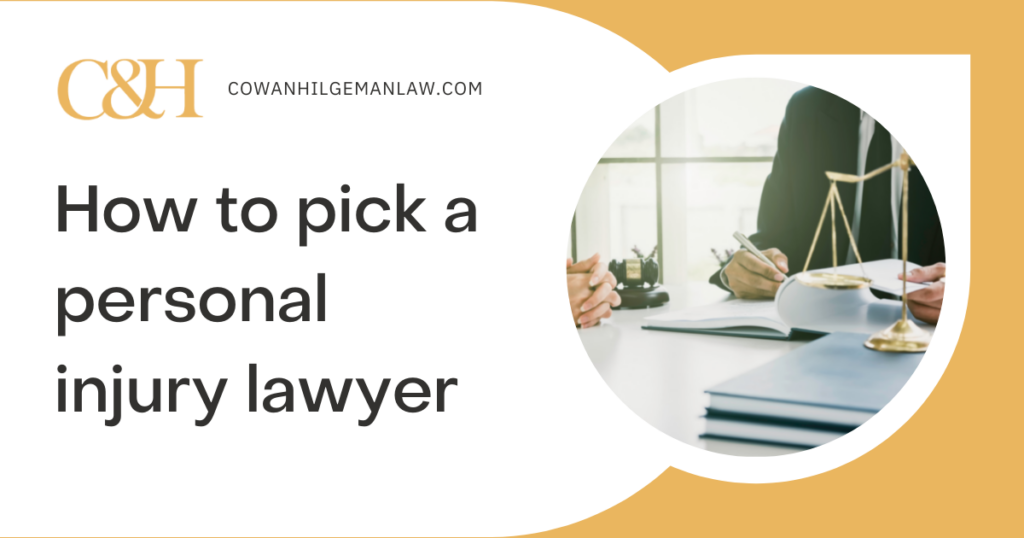 Selecting a personal injury lawyer is an important decision. As a person injured by the negligence of another, you need confidence that your lawyer will protect your interests and fight for maximum compensation on your behalf.
While there are many considerations, here are the three most important:
1. Do you feel comfortable with the personal injury attorney?
You must be comfortable with your personal injury lawyer and trust that he or she will aggressively pursue your case. When speaking with them on the telephone or in-person, are they answering the tough questions? Or, do they avoid answering the question? Can the personal injury lawyer walk you through the entire claim process and provide detail about each phase of the claim? Will the personal injury lawyer be accessible? If you have any doubts about these questions, then you need to find a new personal injury lawyer.
The personal injury lawyers at Cowan & Hilgeman have handled hundreds of claims from start to finish and are involved in all aspects of the claim process. Cowan & Hilgeman attorneys are "hands on" and make themselves available for regular client communication.
Personal injury claims often involve serious injuries that impact your daily life, so selecting an attorney that will focus on your case is important.
2. What do past clients say about the personal injury lawyer?
Reviews from past clients are a great way to evaluate how the lawyer is likely to treat you throughout the claim process. Many lawyers will tell clients what they want to hear during the initial telephone call or meeting, but a detailed review from a previous client will give you great indication of what to expect from start to finish. Also, will your case get the attention it deserves or lost in the mix with all the other cases?
The personal injury lawyers at Cowan & Hilgeman provide clients with honest assessments of their claim, providing all the information and advice necessary for each client to make an educated choice about every stage of their case. Cowan & Hilgeman takes pride in communication and forming relationships with clients that last beyond the end of their claim. Follow the links below to see what our clients say about the attorneys at Cowan & Hilgeman.
3. Does the personal injury lawyer have a track record of success?
As with any professional, you want to select a personal injury lawyer that has a track record of success. It is important that the personal injury lawyer effectively communicate how the claim will be processed and presented to the insurance company in a way that will maximize the value of your claim. While no two cases are identical, it is important that the personal injury lawyer set forth a plan that is specific to your case. Is the personal injury lawyer recognized as a top attorney in his or her field?
We have recovered millions in compensation on behalf of clients and successfully negotiated settlements and litigated cases against the largest insurance companies and businesses in the country. Additionally, Cowan & Hilgeman has attorneys recognized as some of the best personal injury attorneys in Ohio by the top attorney rating services such as Martindale-Hubbell, Super Lawyers and AVVO.
To schedule your free, no obligation consultation, call (937) 222-2030. We will not get paid a penny unless we win your case.