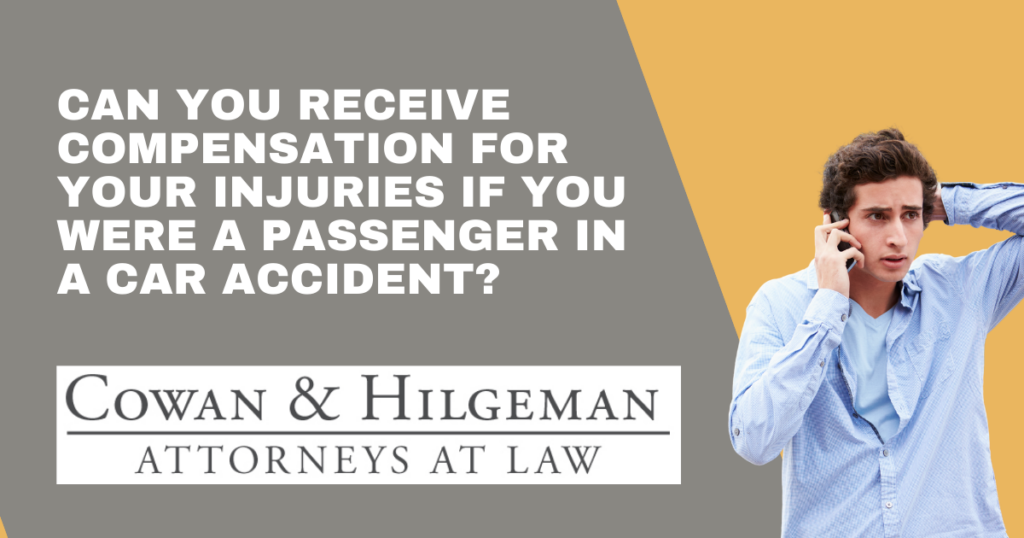 The answer is YES! As the passenger, you cannot be found at fault for the accident.
A passenger in a car accident will have either a claim against the driver of the other vehicle or a claim against the driver of the vehicle in which he or she was a passenger.
Regardless of who caused the accident, a passenger may file a personal injury claim to recover maximum compensation.
Ohio is an at-fault insurance state, so the driver who caused the accident is ultimately liable for all damages.
As with any accident, victims typically pursue a claim against the insurance policy of the responsible party. If the person who caused the accident is also the driver of the vehicle you were riding in, you would file a claim against his or her policy.
Presenting a personal injury claim as a passenger in a car accident can be a complicated process that requires experienced representation. The injured passenger must understand who pays for medical treatment and how claims can be presented to insurance companies so that all of his or her damages are recovered.
To make matters even more confusing, there can be restrictions on the amount of compensation available if there are multiple claimants and the at-fault party has state minimum or low insurance policy limits. Unfortunately, this may force all of the injured parties to work together to formulate a settlement that is fair for everyone.
If you are a passenger in a car accident, it is important to do the following:
Identify all potential avenues of recovery from those involved in the car accident and put all insurance companies on notice of a claim.
Consider bringing a claim for uninsured/underinsured motorists benefits under your own policy of insurance.
Interview a personal injury attorney that will protect your interests against not only the insurance company of the at-fault party, but also consider the claims being brought by other potential claimants.
If your claim is reduced due to multiple claimants and state minimum or low policy limits, make sure to consider Ohio Revised Code §2323.44 in any settlement discussions.
What If the Passenger is Related to the Driver?
If you are related to, and you live with, the driver of the car you were riding in as a passenger, you will probably not be able to pursue a claim against that driver's liability insurance policy. In that situation, you are usually considered an insured under the policy; and insured persons cannot pursue liability claims against the policy that insures them.
If the driver was a friend, co-worker, or extended family member, you do have the right to file a suit to get additional compensation. If you choose to go down this path, you will want to seek the assistance of a personal injury attorney.
As a passenger, you need to know your rights in receiving compensation from an at-fault driver. Because your unique circumstances will determine who you can receive compensation from and how much compensation you can receive, you should always talk to a personal injury attorney about your situation.
The personal injury lawyers at Cowan & Hilgeman have recovered millions in compensation for our clients. Our lawyers create plans of attack for each case specific to the client's needs and expectations. The lawyers at Cowan & Hilgeman handle claims involving personal injury, medical malpractice, nursing home negligence, product liability and wrongful death. We routinely recover compensation on cases that other law firms reject. 
Cowan & Hilgeman offers free personal injury case evaluations and only get paid an attorney fee if we win your personal injury case. Call 937-222-2030 to get your free case evaluation.