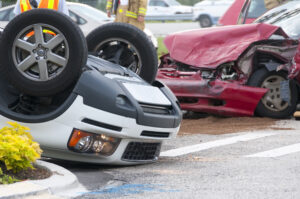 Accidents can dramatically impact your life, especially if you have severe injuries, You may be forced to miss work, or you could suffer a temporary disability if you have been injured in an auto accident. If you do get into an accident, it is important to be prepared and know what to do right away so that you can protect your legal rights and have the information you need to file a personal injury claim. Know these basic steps if you are ever in a serious car accident. 
Pull Over
If you are struck by a vehicle, safely pull over to the side of the road so that you can move your vehicle out of the way from other passing vehicles around you on the road. If you feel that you are in good enough condition, see if there are any other people hurt and tend to them. It is crucial that you stay at the scene and do not leave under any circumstances, otherwise you may be criminally prosecuted. Even if you were involved in a hit and run accident, do not leave the scene. 
Call 911
If you are able to, call 911 so that paramedics and law enforcement officers can be informed of the accident and get to you right away. Give them basic details, but be mindful about saying anything that sounds like you are admitting fault. Just let the first responders know details like the location of the accident, number of people injured, and they will provide you with further directions on what to do. 
Obtain Driver Information
Talk to the other driver or other parties involved so that you can obtain their information, such as their contact information, phone number, email, insurance, vehicle number, and driver's license number. Exchanging driver information is required by law if someone has been injured or a large amount of property was destroyed, as a  auto accident lawyer like one at Barry P. Goldberg can inform you. 
Document the Site
Take many photos and videos of the accident scene and injuries that you have sustained. Assess the damage to the vehicles and other things that may have been hit, such as fences or other objects. Don't forget to check smaller details that can be easily overlooked, such as the interior vehicle of the car, marks on the road, debris, or destroyed property. 
Call a Lawyer
As soon as you can in the days after the accident, get in touch with a qualified lawyer who specializes in personal injury cases like auto accidents. They will assess your case and explain the next steps that you should take. Like many people, you likely do not have the sufficient knowledge to handle a complex personal injury claim. A car accident lawyer can help you navigate the difficult claims process effectively so that you can increase your chances at obtaining a settlement that you deserve. To find out more about what legal services you can receive after getting in a serious car accident, contact a lawyer right away.