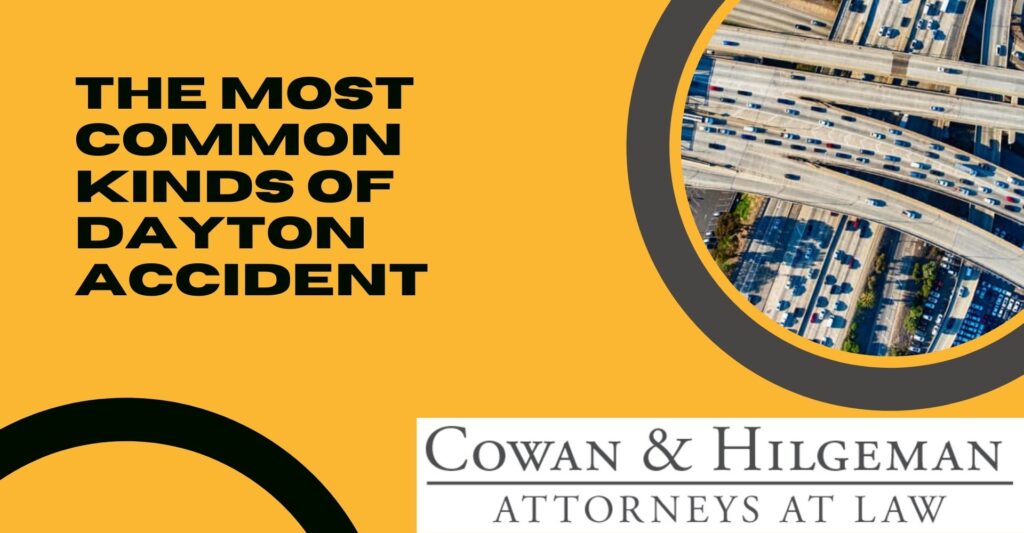 Dayton roads see extreme congestion, though not as much as our metropolitan neighbor to the South, Cincinnati. Still, car accidents occur regularly on I-75, I-675, I-70, Highway 35, and other roadways throughout the area.
While most of these accidents prove minor, even those minor crashes can cause serious injuries. The number of car accidents in Dayton continues to increase, and unfortunately, injuries and deaths have become the norm. Even with the increased safety measures of modern vehicles, injuries continue to occur.
If you or a loved one has suffered injuries in a Dayton accident, you may not know what to do next. You may worry about how to pay your medical bills and how to get back to your regular life—but your legal team can help you recover physically, mentally, and financially.
COMMON ACCIDENTS IN DAYTON
Dayton drivers spend about 6 hours per year in traffic. While that sounds bad, and it is, Dayton's average is actually well below the national average. Sitting in any amount of traffic causes drivers to feel agitated and drive aggressively. This type of driving behavior often results in accidents.
Some of the most common types of Dayton accident include:
Hit and run
Sideswipe
Rear-end collision
Drunk driving
Running a red light or stop sign
By taking appropriate safety measures, drivers can prevent most of these accidents. When you suffer injuries because of another driver's negligence, it adds to your frustration, building on top of the pain you're already suffering from your injuries.
ACCIDENTS CAUSE SERIOUS INJURIES
Depending on the seriousness of your accident, your injuries may prove severe. Even minor injuries can derail your life and require costly medical care.
The most common injuries that result from Dayton accident include:
Burns
Broken bones
Sprains
Dislocated joints
Neck injuries
Back injuries
Concussions and other traumatic brain injuries
Amputation
Paralysis
Each of these injuries, no matter how minor, could cause you serious pain. To get better, you may need to endure numerous medical procedures and painful rehabilitation.
Additionally, you may face extremely high medical bills. The more serious your injuries, the more costly your recovery. Your injuries may also prevent you from going to work, even for a short time. That can cause financial hardship for many people, as about 40 percent of Americans are just one missed paycheck away from financial catastrophe.
We know this worries you and may stress you out. Don't let those feelings prevent you from focusing on your health and physical recovery. You have another option. You can partner with an experienced Dayton accident injury lawyer. With the right legal team at your side, you can focus on your recovery while your attorney shoulders the burden of the complex legal process. Your legal team can help you recover maximum compensation, so you don't have to worry about missing a paycheck.
YOU MAY PURSUE COMPENSATION
To ensure that you pursue maximum compensation, your legal team will file a personal injury claim for damages against the negligent party. Proving that someone else caused your accident and subsequent injuries may prove difficult, but an experienced lawyer will know how to do that. The primary goal of filing a lawsuit is to collect compensation from the negligent driver so that you don't have to worry about covering your medical expenses and financial losses out of your own pocket.
Your lawyer may try to get you compensation for:
Pain and suffering
Emotional distress
Lost income
Lost earning potential
Loss of companionship
Loss of life enjoyment
Present and future medical expenses
Rehabilitation costs
The biggest expenses that you may incur may come in the future. The medical bills you see sitting on your kitchen table may only constitute a small fraction of the total amount you need to recover to ensure you do not have to pay a penny out of your own pocket.
Working with a skilled Dayton accident injury attorney, you gain access to your attorney's experience and resources. Working with medical experts, your lawyer will work to determine how much time you will miss from work and what additional medical care you may need. Together, these costs help your legal team understand the amount of money you need to recover from your injuries.
CONTACT A DAYTON PERSONAL INJURY LAWYER TODAY
Getting into an accident in Dayton can prove frightening, both in the moments after the crash, and for weeks and years later. You don't want your accident to cause you financial hardship, all because of someone else's negligence. To avoid that situation, you should partner with a trusted accident injury attorney in Dayton as soon as possible after your accident. Contact your car accident lawyer so they can help you pursue maximum compensation for your injuries.
Call (937) 222-2030 today, to schedule your free, no obligation consultation with a Dayton accident attorney.