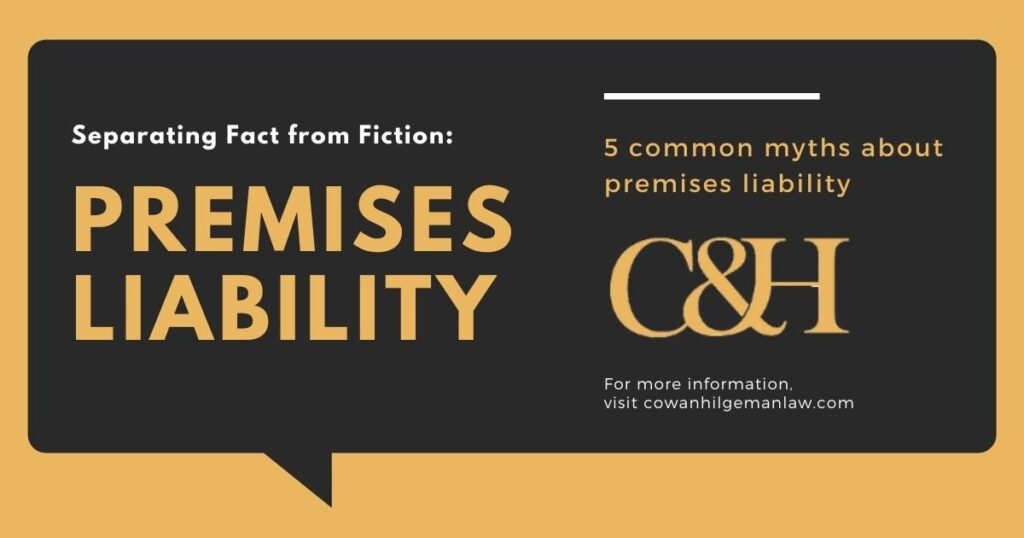 If you are hurt or injured on someone else's premises, it seems as though everyone has an opinion about premises liability: who is responsible for how your injury occurred, whether you can claim compensation for their negligence, what happened to their cousin's friend who was in a similar accident… In this blog post, the experienced premises liability attorneys at Cowan & Hilgeman will separate common myths from the facts, so you can be well informed if the worst should happen and you are injured through no fault of your own on someone else's property.
| | |
| --- | --- |
| MYTH | FACT |
| "Premises Liability" is just another way of saying "slip and fall" cases | Although Slip and Falls are a kind of premises liability case, there are numerous other types of case that fall under that umbrella. These can include: dog bites, swimming pool accidents, snow and ice accumulation, elevator and escalator accidents, inadequate maintenance of premises, attractive nuisance cases, fire, flood or water leak, inadequate security, improper stacking or storage that falls on top of someone, and many more. |
| Property owners are always at fault in slip and fall accidents | Not always. For example, if someone was trespassing on another person's property and had no legal right to be there, the property owner may not be found liable for an injury that occurs (with some limitations: see 'attractive nuisance' laws) |
| Only property owners can be held legally and financially responsible in premises liability claims | A negligent property owner is often the only person found at-fault. However, landlords, property managers and maintenance people are just a few of the people who may also share some responsibility – and therefore, liability – for negligent injuries. |
| Premises liability claims are limited to commercial properties | We often think of shopping malls or grocery stores when we hear of slip and fall cases. But given the wide scope of 'premises liability' cases, these are frequently brought against private individuals (homeowners or landlords). |
| Premises liability claims are limited to physical injuries | Clients are sometimes awarded compensation for non-physical injuries, such as emotional distress, pain and suffering. Loss of potential earnings, compensation for lost work, etc. |
Further explanation:
What is a property owner's liability?
Only an experienced attorney can tell you the answer, but in general, property owners have an obligation to keep their premises safe and secure. They are required by law to fix any hazards on their property and, at the very least, make sure that guests are adequately warned of any dangers.
When a property owner is negligent in maintaining their premises, and a visitor is injured as a result, our attorneys may be able to help the injured party recover compensation for their losses. In Ohio, a landowner can be considered negligent if they knew or should have known of a hazard and failed to repair it, or failed to provide warning about a known hazard.
Levels of Care for Property Owners
Property owners owe different levels of care depending on the type of guest they are hosting.
Invitees: Invitees are those who are invited to enter or remain on the premises for a commercial benefit of the property owner. For instance, a customer in a grocery store would be considered an invitee, as the store actively invites the public to enter onto its premises for the purchase of food and other goods. Property owners owe these invitees or guests the highest level of care. For these guests, property owners are required to inspect their premises and provide warnings about any hazards. As a result of the mandatory inspections, property owners may be liable for any hazard of which they should be aware.
Licensees: Friends, family members, and any other social guests are considered licensees. The main difference between invitees and licensees is that the latter are invited to enter or remain on the premises for non-business or commercial purposes. Property owners are required to maintain and fix any hazardous areas of the property. Unlike business invitees, property owners are only liable for dangers they know about—as opposed to what they should have known.
Trespassers: A property owner's obligation to trespassers is significantly less than that of a business invitee or licensee. The property owner is not allowed to intentionally set up hazardous areas on their premises to guard against trespassers.